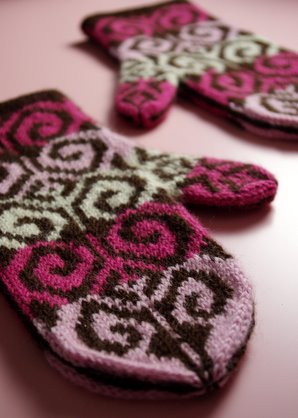 Project Specs
Pattern: Fiddlehead Mittens
Pattern Source: Designed by Adrian Bizilia of Hello Yarn
Yarn: Berroco Ultra Alpaca Light, 33g Dark Chocolate (95 yds), 8g Winter White (23 yds), 15g Rose Spice (43 yds), 13g Pastel Pink (35 yds)
Needles: Size US4 Clover Bamboo DPNs
Date started: 5/?/08
Date completed: 11/8/08
Modifications: No lining, knit at a smaller gauge, left off one row of thumb
See them on Ravelry!

I am so happy to finally have an FO to show off, and these mittens will be a Christmas gift so I'm even more excited! I knit the first mitten up very quickly back in May and just the other day dug it back out to finish its mate. I certainly felt rusty with my knitting and colorwork. The first couple of inches of my second mitten were totally rumpled from my uneven tension. All I have to say is, thank goodness for my mitten blockers! Even though I took a long break from knitting, you can't even tell the difference between the mitten I finished up yesterday, and the one I knit months ago.

Just like with my last pair of Fiddleheads, I'm really happy with how Ultra Alpaca Light worked with the pattern. It really shines after blocking and the fabric is nice and even with a soft halo. I'm not sure that knitting these without linings would suffice for the coldest climates, but they're certainly adequate for places with moderate winters. I really want to try these mittens with other yarns in the future, and hadn't even though about using good ol' Cascade 220 until I saw Jen's gorgeous blue and red mitten. I love it! I definitely see a pair of Cascade Fiddleheads in my future. I can't wait to play around with more color combos! I love these colors together, and I know the recipient will too. A great thing about this pattern is that it really lends itself to a wide variety of color combinations and you can always create a unique pair of mittens.
It feels so good to have another x-mas gift knocked off the to-do list, and I'm going to start in on my next present right away. This year I really wanted to make all of my gifts but I'm getting such a late start. I'm planning on making a pair of Malabrigo Loafers, a Baby Bobbi Bear, Circle Squared hat, Hemlock Ring Blanket as well as finishing up a few things I've already started like the Moderne Log Cabin Baby Blanket.
Thanks everyone for all your kind words of support on our last post. They were much appreciated and really helped. You definitely reaffirmed that our readers are the BEST!!!