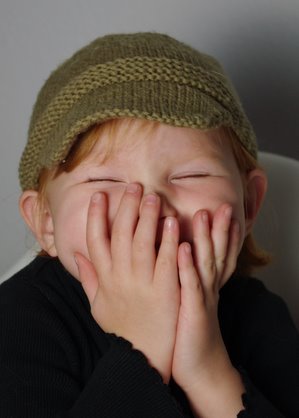 This pattern is also available for instant download on Ravelry.

We've recently experienced something totally disheartening here at Kathryn Ivy. Someone who previously purchased our Kiddie Cadet pattern has come out with her own "version" of the pattern. I think what most people know, and should remember in a situation like this, is just because you can probably get away with something doesn't mean you should do it. Passing off a modified pattern as your own, even if you feel they are "different enough" is wrong. We have knit hundreds of patterns between us here at Kathryn Ivy, and many times with modifications. We would never dream of claiming that as our own design, even if we ended up almost rewriting the whole pattern in the end.
We don't design and write patterns to make tons of money; we do this because we enjoy it. Our pattern sales basically cover our site and photo hosting fees. When someone comes along and you feel like your original design is stolen it's absolutely heartbreaking. When I think about all the hours we spent working on the pattern, and all the times I tried a different version on Camdyn's little head (she was only about two years old at the time), I feel like crying. Originally we researched legal ways to enforce our copyright, however at this point that's just not monetarily feasible. We want to rise above this here and the easiest way to do that is by making our pattern available for free, so that's what we've done.
So, please feel free to download our Kiddie Cadet Hat pattern for free. Tell every knitter you know that they can get the pattern for the original Kiddie Cadet Hat design for free from our site. This pattern is great for kids of all ages, makes the perfect quick baby shower gift or would be great for a stocking stuffer for the upcoming holidays.
If you've purchased this pattern previously from us--thank you so much for your support. We'd love to do something for you. If you'd like, you can e-mail us at [email protected] with your Kiddie Cadet purchase information and we'll send you our Hawkeye pattern for free. If you've bought both patterns already from us, thank you SO much. Please bear with us, but I promise when we release our next pattern we'll send it out to you on us.
We really appreciate everyone's support. I know anyone who has designed a pattern on their own and most knitters in general know how much work goes into making comprehensive and well written patterns. I never expected anyone that kindly bought one of our patterns would use it to try to make themselves a few bucks, but someone like that is one in a million.
We're sorry to come back to blogging on this note. It is absolutely terrible timing because we have been looking forward to coming back to the site with some great knitted things to post about and not this. Our spirits are a bit broken but I promise we'll get through this! Thank you so much guys for hanging in there through our blogging absence. Soon we'll be back and better than ever!