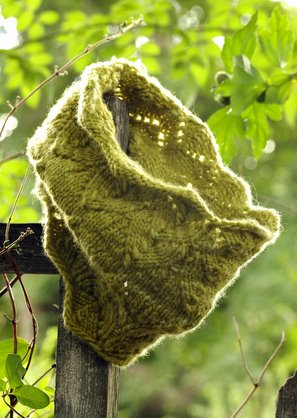 Project Specs
Pattern: Crofter's Cowl
Pattern Source: A free download from Gudrun Johnston's Ravelry Store
Yarn: Malabrigo Merino Worsted in Lettuce, 45g (97 yards)
Needles: US 8 Denise circular needles
Date Started: 8/20/08 @ 2:30 PM
Date Finished: 8/21/08 @ 8:35 PM
Size: 9.25" x 7"
See it on Ravelry
I can't believe that I haven't gotten around to posting all my Ravelympic FO's yet! I'm such a slacker. I'm not really sure why I put off blogging about this cowl for so long. I really like it and have had some fun wearing it around before packing it away with all of my other Christmas knits. :) Chalk it up to pure and simple laziness I guess!

There are so many nice things to be said about this pattern. First off, it's free and simple. The lace pattern is all charted, and is probably one of the easiest charts you'll ever see, perfect for first time lace knitters. Also, since it is worked in worsted weight yarn, the stitches are really easy to read and keep track of. I also love that the recommended yarn is Malabrigo which, in my opinion, is the ultimate yarn for cowls. It's so soft and blocks amazingly well (I didn't have to pin it out to get good The dimensions of the cowl can easily be modified by working extra repeats to make it longer, or casting on extra stitches to make it looser fitting around the neck. I cast on 10 extra stitches, for a total of 90 and I'm really glad. I think if I had cast on only 80 stitches it would have turned out a bit too tight for my tastes, and even 90 stitches makes a cowl that is not very lose fitting (for me at least). If I were to knit this pattern again, I'd experiment by casting on 100 stitches to see how that feels, even though I'm happy with the fit of the one I made.

The most time consuming part of this pattern is probably the grafting, but after knitting all of those Hansigurumi patterns I'm totally used to it by now. One thing you might want to be aware of though is lining up the stitch pattern from the two halves. I first started grafting without thinking of that, and the top and bottom halves were offset by one stitch so I ended up ripping it all out and redoing it. It is a simple fix, all you have to do is slip the first stitch of the first half (not the half with the long tail left for grafting) to the right hand needle, then start kitchenering with the new first stitch on the left hand needle.

I'd recommend this pattern to anyone who is looking for a quick gift idea, or you could probably even start knitting one in the morning and have it finished in time for a night out (without blocking of course)! This pattern would also make a cute kids cowl since it is so easily modified. I've never worn a cowl before, but I can definitely see why they're all the rage right now. They're not bulky or heavy like scarves can be, and provide all the protection you'll need around your neck and face need on chilly days. I've already been thinking about some different cowl designs I'd like to create myself!