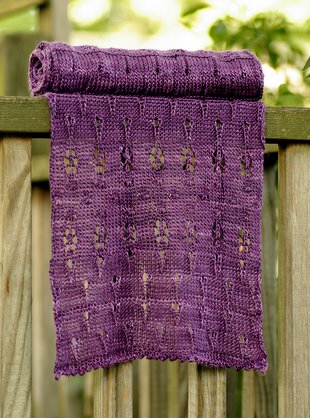 Project Specs
Pattern: Gossamer Stars Scarf designed by Kat Coyle
Pattern Source: Interweave Knits, Summer 2008
Yarn: Fiesta La Luz in Orchid, 2.3 skeins
Needles: US 7 Denise Circular Needle
Date Started: 8/8/08 @ 8:00 AM
Date Finished: 8/12/08 @ 8:45 PM
Size: 10" wide x 62" long
See it on Ravelry

The Gossamer Stars Scarf was my first Olympic cast on and it took about three days of marathon knitting to finish. I had been searching for a pattern to use with this yarn for a long time and was so glad to see it in the Summer 2008 issue of IK. I was pleasantly surprised with how easy it was to knit while at the same time learning a few new techniques (this was the first time I worked a provisional cast on and it surely wont be my last). The instructions are so simple they only take up one page in the magazine! I'm excited to give this to my grandma for Christmas this year. Purple is her favorite color and I know she'll appreciate the luxuriousness of La Luz.
This scarf has more of the feel of a small wrap due to its width and weight. The dimensions could easily be tweaked to make it wider or longer, and the design would also lend itself well to many different types of yarn. The pattern suggests using 3 skeins of Fiesta La Luz, and with a retail price of $25.00 per skein it's not the most practical choice. I was kind of annoyed that I only ended up using a third of the last skein, because when you spend that much on yarn, you want to use it all up! I could have probably gotten one more pattern repeat for each half of the scarf with the leftovers of the third skein. Now I'm left with about 150 yards, maybe enough to make another La Luz Eye Mask or a lacy cowl.

I was really good about blocking my Ravelympic FO's immediately after finishing them, that is except for this scarf. I was nervous about washing this yarn especially since the label is adamant about it being dry clean only. I've read several places that silk fibers can become very delicate when wet, so I made sure to handle it with extreme care. I placed the scarf in a bowl warm water mixed with a bit of Euculan wool wash for over an hour to make sure the silk fibers got thoroughly soaked. The yarn bled A LOT, the water almost instantly turned dark purple. I have noticed that the color is a bit lighter that it was before washing, and I wonder how much more it would lighten with each subsequent wash. When taking the scarf out of the water, I made sure to support the entire weight of the scarf at all times and used a clean try towel to press out as much water as I could before laying it on the bed to dry. I have to admit the scarf looked pretty shabby as I was knitting it. Since there are no border stitches, the edges curled in making it look really sloppy. However after the wash and gentle block (not using any pins or wires) it was transformed!
I should also mention that when while wet this scarf stunk to high heaven! I've heard that wet silk can have a pretty strong smell, but I wasn't prepared for it being that bad. Just thinking about it now makes me nauseous. Once it dried the smell faded but is still present. I hope that it isn't too overpowering for my grandma because I know I would have problems wearing the scarf. Does anyone have any advice on how to get it to smell a little nicer?
As for the rest of my Ravelympic projects, I finished everything except the Bird in Hand mittens and Odd Fellow. I got pretty far in knitting the mittens before I realized that I totally hated the color combo that I chose, and figured that it would be best to frog and redo them later instead of living with mittens that I couldn't stand. I'll be posting the rest of my Olympic FOs this week and early next week so stay tuned!