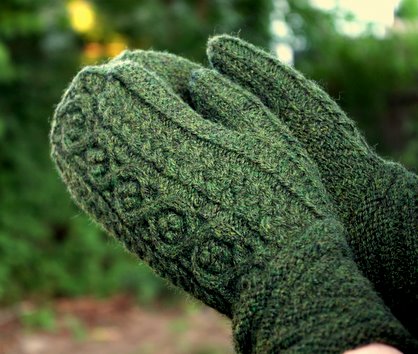 Project Specs
Pattern: Green Autumn (Druid Mittens) designed by Jared Flood of BrooklynTweed
Pattern Source: Vogue Knitting, Fall 2008
Yarn: Harrisville New England Shetland in color #8 Hemlock, 1.3 skeins
Needles: US 3 Clover DPNs
Date Started: 8/10/08 @ 4:30 PM
Date Finished: 8/20/08 @ 5:10 PM
Size: 10.5" from bottom of cuff to tip of fingers, 4" across palm of hand; to fit Womens Large
See them on Ravelry

Obviously the Yellow Harvest mittens weren't the only ones I loved from this magazine! The Green Autumn mittens also stood out when I saw the preview, along with the Snowbird mittens and Buttonhole Scarf. I have to admit that I'm not usually the biggest fan of Vogue Knitting magazine. I had the subscription for a year but canceled it after dealing with their totally unreliable delivery (I always ended up receiving my copy after it had been on the stand for a few weeks) as well as a complete lack of patterns I'd ever want to knit. Of course as soon as I cancel they put out a magazine with several patterns I loved!
After casting on I soon realized that these mittens were more detailed than I had originally thought. There are cables, bobbles, knit, purl, and slipped stitches all working to create a design that is intense but surprisingly simple. It took me about three full days to knit the main body of the mittens plus an extra half day for the thumbs. Honestly they went quicker than I thought they would considering how much cabling there was to do, but if I were to knit these again I definitely wouldn't do it under a deadline (at least a two week deadline along with nine other projects). This pattern seems like it would be better suited for leisurely knitting over the course of a month.

I really couldn't be happier with how they turned out. They fit me like a dream, and like the Yellow Harvest mittens I'll be sad to see them go. I already have plans to knit myself a pair using some Araucania Ranco, and hopefully I'll get around to them before the holidays arrive. My favorite part of these mittens probably has to be the thumbs. Be careful when you're knitting the right thumb though because the cabled section of Chart 3 should be mirrored to keep the pattern going.
This is my second time using this yarn, and again I really enjoyed working with it. New England Shetland is perfectly suited for colorwork, and I was pleased to discover it works really well for cabling too. It isn't by any means the softest yarn and can be a bit itchy, but it does soften with a good washing. I love the stuff, and I hope that the friend I'm giving these mittens to feels the same way!
The Olympics are winding down, and I have to finish all my knits by noon on Sunday. I feel like I'm in pretty good shape with all but three completed. Tonight I'll be working on the Odd Fellow, then tomorrow and Saturday will a knitting marathon to get Butterfull and Bird in Hand mittens finished. Alice doesn't think she'll be able to finish all of her projects but I'll be rooting for her to finish what she can.