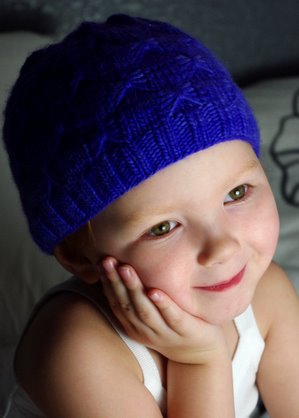 Project Specs
Pattern: Butterfly Hat by Sofiya Cremin
Yarn: Malabrigo Merino Worsted in Jacinto, 45g (97 yards)
Needles: US5 and US7 Denise Interchangeable Needles and US7 Clover bamboo DPNs
Date started: 8/11/08
Date completed: 8/13/08
Modifications: Worked one less butterfly repeat for child's size, adjusted decrease rounds accordingly
See it on Ravelry!

I was totally inspired by Jen's child sized version of this hat that she knit during Malabrigo March. It became an instant favorite of mine and I always knew that I needed to make one like it for Camdyn. I used all Jen's tips and modifications to change the sizing and after blocking the hat fits Cam perfectly.
Though the pattern was simple and quick to knit, I had some setbacks with my yarn choice that added to the knitting time. I knit over half of a hat with a more variegated colorway of Malabrigo and it ended up looking terrible so I opted to reknit it with a semi-solid colorway. I'm still not totally happy with my color choice. I really wish this color was a bit less solid than it is. I still like the effects of the floats though, and the pattern really goes fast so I could see myself knitting this pattern again once I find the perfect color for it.

Speaking of color, the color of this hat is totally off in these photos! It is a bit lighter and much more purple than shown here. I had forgotten how it is to photograph purple—then I remembered that I also had the same problems taking pictures of Camdyn's Tomten Jacket. If anyone has any tips on photographing those hard to capture colors I'd love to hear it. I tried adjusting the white balance and using natural light without any luck!
So far I'm loving my new camera, but there are so many features I haven't even tried yet! I'm thinking of doing Project 365 with Camdyn. I think Cam would have no problem with this, since she asks me to take pictures of her every day already. I think it would be fun to look back on and it would also help me become a better photographer. Maybe after the Ravelympics I'll give it a go!