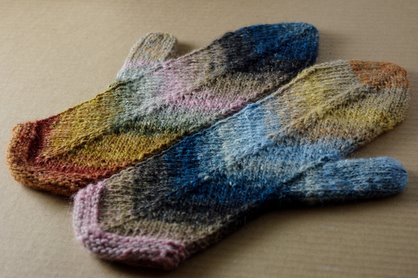 Project Specs
Pattern: Mitered Mittens
Pattern Source: Knitter's Almanac by Elizabeth Zimmermann
Yarn: Noro Silk Garden #249, 1 and 1/2 skeins (185 yards)
Needles: US7 Clover Bamboo DPNs
Date Started: 8/15/08
Date Finished: 8/16/08
Finished Dimensions: 12" inches long, 4" across hand
Modifications: Added thumb gusset, ended mitten with 12 stitches rather than 8
See them on Ravelry!

Grace and I are still working on our Olympic knitting and have lots of exciting stuff to show you! Not only have I finished these mittens, but I have a couple other things waiting in the wings for their photo shoots as well. Stay tuned because I imagine there will be lots of FOs popping up here at Kathryn Ivy in the next week!
I was really excited to finally be able to sit down and make this pattern. I love EZ's patterns, and this is one of the ones I've admired most. I used Grace's instructions for adding a thumb gusset and I love how they turned out. The fit is great and the mitered pattern stays in tact with out any odd pulling. The only other change to the pattern I made was to end my mitten with twelve stitches instead of eight for a slightly less pointed mitten top.

I decided to go with the flow and just let the Noro do all the work instead of toying with the colors to make two matching mittens. I have to say about half way through my second mitten I was worried they were going to look like a very odd pair. In the end I think they turned out to be a nice compliment to each other even though they only share a few of the same colors. The Silk Garden was really nice to work with this time around. I didn't come across a single knot while knitting. I think this yarn can be pretty hit and miss and varies so much in quality depending on the colorway or when it was purchased. These two skeins contained very little VM and became very soft after a wash in Kookaburra. I did notice a significant change in thickness from the first skein to the second which altered my gauge slightly. Luckily a mitten blocker was able to fix any size different that was there before blocking.
These mittens are going to be given away at Christmas and I hope they will get lots of use! They'll be hard to give up but that just means I get to knit another pair all for myself.