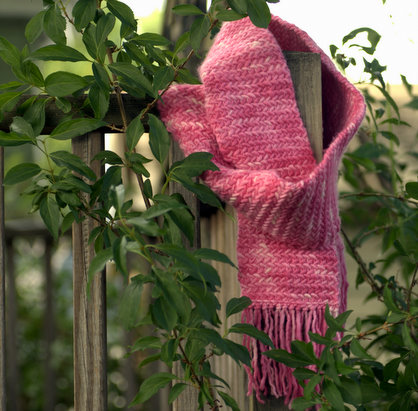 Project Specs
Pattern: My So Called Scarf
Pattern Source: A free pattern from Sheep in the City
Yarn: Malabrigo Merino Worsted in color Rosa Vivacity, about 1.3 skeins (280 yds)
Needles: US 11 Denise needles
Date Started: 7/1/08
Date Finished: 7/3/08
Final Measurements: 4.75" wide by 62" long (71" including fringe)
Modifications: Bound off on wrong side (purl side) by p2tog, *p2tog, pass first stitch over second stitch on right hand needle to bind off.* Repeat to end.
See it on Ravelry!

It seems like My So Called Scarf is one of those patterns that everyone and their mother has knit, except me... until now at least! I am so glad I finally got around to knitting this pattern because I actually really loved it. It's so simple I couldn't put it down. It was just perfect for relaxing TV knitting, which is something I enjoy much more than I probably should. I'd definitely recommend this scarf to anyone who is up for a little mindless knitting. It would be a great project to take on a vacation since you wouldn't even need to take a pattern along. I could really see myself knitting this pattern again, although I should mention though that Alice wasn't nearly as addicted to the pattern as I was.
This scarf pretty much couldn't be much easier to knit, but I would still change a few things. I used a regular long tail cast on to start the scarf, and I'm not sure that is the best choice. It is a tad too loose and makes the end flare out. I don't have a suggestion for a better cast on though, so maybe it would be best just do the long tail cast on tighter than you normally would. Similarly, I tried binding off in the usual way and that caused the end to flare too. Luckily I was able to find a good technique from the pattern comments on Ravelry which worked perfectly (see modifications above). I usually wash and block everything I knit, but I decided not to for this scarf. The stitch pattern holds the scarf flat, and I haven't had a problem with it curling at all. I also added a 4.5" fringe to each end of the scarf.

I swear this pattern was made with Malabrigo in mind. It shows off the subtle color variations perfectly! It's nice not having to worry about the colors pooling (you may have to think about that if you used some of the variegated Malabrigo colorways), plus I think the "wrong side" turned out just as gorgeous as the front! The scarf ended up so smooshy, thick, and warm. I really am kind of wishing that I was keeping it for myself, but instead I'm sending it off to my oldest sister for her birthday. She is moving from California to Las Vegas to be closer to Alice, and I'm hoping that she'll be able to use it for at least one week out of the year! I know she'll just love the color though, because pink is totally her thing. :)