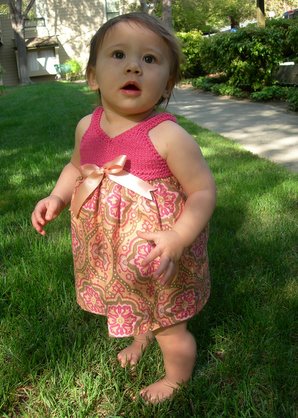 Project Specs
Pattern: Summerlin, More Gathered Skirt version
Size Completed: 1 year
Yarn: TLC Cotton Plus in Hot Pink
Fabric: Amy Butler Covington Tile in Marmalade
Needles: Size US6 Denise Needles
Date started: 4-25-08
Date completed: 4-26-08
Extras: Peach colored satin ribbon See it on Ravelry
Isn't Jojo just the cutest in her Summerlin dress? This is the one year size that I made last month while putting together the pattern and then sent it off to Jojo for her birthday. I used the same Amy Butler fabric that I used in the first dress I made Camdyn. I absolutely love how the hot pink makes it pop just that much more.

I can't believe Jojo is almost too big for it already! You can see the straps could stand to be a bit longer, and the skirt is a little shorter than I intended. I also made her an apron top version, which doesn't fit at all! This just goes to show that not all children are the same size, and I really should have asked my sister for Jojo's measurements. This dress looks like it will fit her for just a little while longer. I think I'll be making Jojo some Summerlins in the next size up so she can wear them all summer long.
You can see that this is kind of an old FO, and that's because I have absolutely nothing new to show you! I hope everyone is having better luck with their knitting than I have been lately. I just can't seem to find my groove! I've started and ripped out quite a few projects since knitting Elijah and nothing has held my attention. I really hope I can get back to normal soon, things just don't feel right when I'm not knitting!