Ever since all your nice comments on Camdyn's dress, I've been working diligently on putting together the pattern for you. I am so happy to say that it's finally finished! I decided to call it Summerlin, because not only is it the area of Las Vegas we live in, but I also think it is the perfect name for a girly summery frock.
This pattern allows you to quickly create a garment for your favorite little girl. I think it combines the best of both worlds. The knitted bodice does away with having to deal with the pesky buttonholer on your sewing machine, and the fabric skirt keeps it light, colorful, and simple. I'm not lying when I'm saying it goes fast either—I've created two tops and two dresses over the past two days!
The pattern is written for Girls' sizes 1-5 years and contains instructions for two gathered skirt versions as well as a really simple apron top version. You can find it here or on Ravelry as a free PDF download. Enjoy!
Now I have to show you the other cute things I made for Camdyn using this pattern. I also made a top and dress for Jojo, but I'll wait until I can get some pictures of her modeling those to show them to you.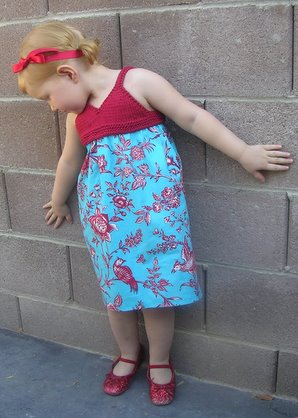 Project Specs
Pattern: Summerlin, Less Gathered Skirt version
Size Completed: 3 years
Yarn: TLC Cotton Plus in Red, 31g (56 yds)
Fabric: Girlfriends Nuala by Jennifer Paganelli in Turquoise/Red
Needles: Size US6 Denise Needles
Date started: 4-26-08
Date completed: 4-26-08
See it on Ravelry

Okay, I think this version is my favorite. I absolutely love the look of the less gathered skirt. To me it almost has a vintage look to it. I know I'm totally biased, but I think it is perfect for Camdyn. It really brought out the little model in her! She kept pulling out poses left and right. Sometimes she gets a little antsy during photo shoots, but this time she wouldn't stop posing! There were just way too many cute pictures, so if you're interested in seeing the others (as well as all the other pictures of what I've made with this pattern) check them out on Flickr.

I can't get over the fact that I created this in just one day. I admit though I need to take a bit of a break from this pattern after it consumed my life all last week! I don't know how long I'll be able to stay away though, I already have at least five more yarn and fabric combinations picked out for more Summerlins. It's amazing how well the TLC Cotton Plus that I have on hand seems to compliment the fabrics in my stash. This deep red goes perfect with the Girlfriends fabric, don't you think? I've had this fabric on hand for a long time, and I am so glad to finally have used some of it.
Project Specs
Pattern: Summerlin, Apron Top version
Size Completed: 3 years
Yarn: Lion Brand Cotton Ease, 27g (56 yds)
Fabric: Amy Butler Dew Drops in Tangerine
Needles: Size US6 Denise Needles
Date started: 4-26-08
Date completed: 4-27-08
See it on Ravelry
When I was writing up the pattern I decided I wanted to provide a version that even the totally novice sewer could make. This one is so simple! The sewing portion took me less than ten minutes to finish. This top totally says summer to me and I know Cam will get lots of use out of it in the upcoming months—it looks like we'll be in the mid-80s to 90s for the next couple of weeks, and from then on out it just starts getting hotter!

For this version I wanted to try out the pattern in a different yarn so I chose Lion Brand Cotton Ease. I love the color palette available and it seems like this yarn is easily accessible to almost everyone. Overall I think this yarn worked great. It feels a lot more cottony to me than the TLC Cotton Plus and doesn't have the sheen the TLC does. Even though it was less splitty to work with, I'll probably stick to using my stash of Cotton Plus in the future. This is just my personal preference though—I've worked with this yarn so many times now that I've gotten used to it.
I really hope you all enjoy this pattern! Even if you don't have a little girl to make one for, maybe it will inspire you to try combining knitting and sewing in your own way.