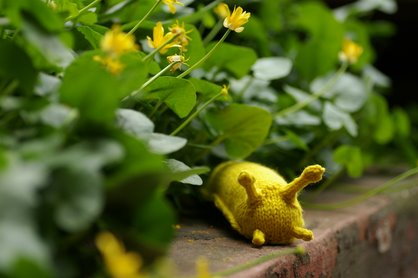 Project Specs
Pattern: Garden Snail by Hansi Singh
Pattern Source: Hansi Singh's Etsy shop - hansigurumi
Yarn: Cascade 220 #7828 Neon Yellow
Needles: US 4 DPNs
Date Started: 4/24/08
Date Finished: 4/25/08
Finished Dimensions: 8" long
See it on Ravelry!
Like Alice mentioned in her post about Otto the bear (who is SO CUTE btw!), our niece's first birthday was yesterday. I know that she'll be getting tons of cute girly things from everyone else, so I wanted to make her something a little funky and nontraditional… a banana slug! I mean what kid wouldn't appreciate that huh? Not that she knows what a slug is, or probably even what a banana is, but it is the thought that counts, right?

I got the idea of knitting a banana slug for Jojo's birthday back when I first knit this pattern. The body from Hansi Singh's Garden Snail pattern works so perfectly as a slug, and I really feel that the pattern is very baby friendly. No parts can get pulled off, I gave the eye stocks a whiskers a good tug and they're on very well, and it'll be easy for her to grip. I admit I didn't choose a very baby friendly yarn though. I would have rather knit it in Cascade 220 Superwash but I just didn't have the right color on hand. I'll make sure to add detailed care instructions when I send it off.

So I just have to tell you again how awesome this pattern is! It is so well written and quick too; knitting a slug just takes about one day. He turned out to be a little over 8" long, and is the size of an actual banana slug! I feel like he has so much personality and was really fun to photograph. Usually I am really embarrassed to go down in front of my building to take photos of my knits, but this time I really loved it. Also, this may sound strange, but he is surprisingly cuddly too! I can see myself knitting many more of these guys in the future. :)
I've been trying to think of another small thing I could knit for Jojo to send along with this slug. Last year I made her the pink bunny and a pair of little bunny booties, so this time I was thinking maybe I'd make a little sun hat or something springy. I don't have very much cotton on hand, and it is really difficult to find something that would be good for warmer weather using yarn from my stash. Does anyone have any suggestions? The only requirement is that it has to be a quick knit because it's already past her birthday (oops)!
Lastly I wanted to mention a few things. Hansi has come out with two more awesome patterns you should really check out. They are for a Hermit Crab and Loch Ness Monster. I'm in the process of working on the Crab and plan to have both of these creatures finished up by the end of the month! There is also a great sale on a few colors of Noro Kureyon at Little Knits. $4.68 per skein or $42.50 for full bags. These sale prices combined with free shipping for orders over $125 (code is spring) and an additional 5% off if you belong to the Little Knits Ravelry group, makes it a deal that is almost too good to pass up!