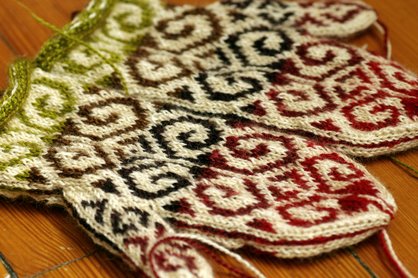 I wanted to post another rather quick update on my Fiddlehead mittens. Today I finished up the outer portion of both mittens, so they're now ready for a serious blocking then the lining. I am so glad that I ripped out what I had knit on 5's earlier and switched to size US 3 needles. The mittens fit really well now, and I think after blocking there will be plenty of room for the lining.

As you can probably see these mittens in their current state are pretty bumpy and lumpy. I tried to be pretty loose with my floats so I don't know what is causing the ridges, but it seems to be pretty commonplace for them to occur in this pattern before blocking. I know both Alice and Jen said the same thing happened to them, and they're both much more experienced at stranded color work than I! I'm actually kind of glad that I'm lagging a little behind in our KAL because I can ask both of them for advice. :)
Tonight I'm going to give these babies a good soak and blocking; and hopefully turn these wrinkly prunes into plums! I hope to have the lining finished this weekend, but I'm sure I'll run into some sort of road block. In the mean time check out Jens AWESOME finished Fiddleheads! I love how we used the same kit, but they're still unique because our colors are all switched around. I'm holding out hope that mine turn out as great as hers and Alice's.