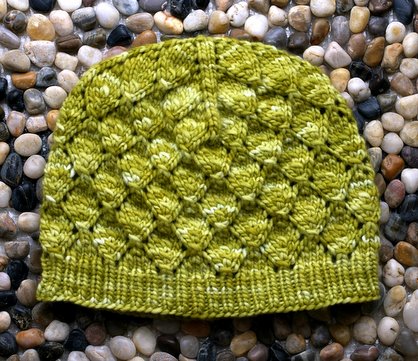 Project Specs
Pattern: Foliage by Emilee Mooney
Pattern Source: Knitty, Fall 2007
Yarn: Malabrigo Merino Worsted in Lettuce, 56 g (116 yards)
Needles: US 7 Clover Bamboo DPNs, US 7 and US 5 16" circular needles
Finished Size: Version 2 (smaller gauge, worsted weight version)
Date started: 3-25-08
Date completed: 3-26-08
Modifications: Instead of working first two rows flat then seaming hole at the end, CO 4 sts, join in round and kfb all sts. Then continue with crown shaping.
See it on Ravelry!

Finally, after almost a whole month of being jealous of all of Alice's great Malabrigo knits, I finally joined in on the Malabrigo March madness! I'm really glad that I knit this when I did, because this hat just screams Spring to me. The weather here has been beautifully sunny but still pretty cold, so I still have plenty of time to wear this hat before heat and humidity roll in. The combination of the perfect colored green and just right warmth of this hat gets me really excited for my favorite season!
This hat is worked from the top down, which is a technique I had never tried. The pattern calls for the first two rows to be knit flat, then seamed at the very end. I tried knitting the top of the hat several ways and thought that it looked best when I CO 4 sts, joined in the round and kfb all sts, completely skipping the first knit round. Other than that minor change, I knit the pattern as written and couldn't be happier with how it turned out! It's really stretchy, warm, and the perfect length. I decided not to block it because I really like the texture which Alice says looks like scales… I think it looks more like an artichoke!

I think this would be a great project for someone who has never knit lace before and may be a little intimidated by the technique. Working in worsted weight makes it so easy to read the stitches to see what you've done and where you should be going next. Also the rows aren't too long so if you find a mistake it doesn't take an insane amount of time to backtrack. I haven't knit lace in a pretty long time, and knitting this hat has really got me wanting to get back into it. I plan to cast on a lace shawl or scarf by the end of the month if everything goes as planned!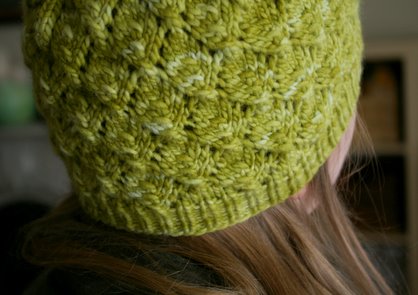 Lastly I wanted to let you know that
JenniO
is raffling off 10 skeins of Malabrigo Silky Merino to raise money for breast cancer research. All of the details can be found
here
.