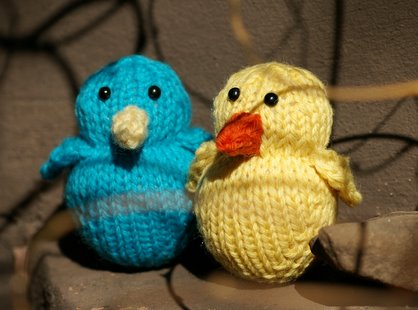 Project Specs
Pattern: Bluebird
Pattern Source: Berroco
Yarn: Bluebird: Patons Classic Wool in Too Teal (20 yards) for body, Cascade 220 #4147B Lemon Yellow (a very small amount) for beak
Chick: cascade 220 #4147B Lemon Yellow (20 yards) for body, Cascade 220 #7824 Burnt Orange (a very small amount) for beak
Needles: US 7 Clover DPNs
Finished Size: 3" tall
Date started: 3-21-08
Date completed: 3-21-08
Modifications: For yellow chick, kfb for increases instead of m1.
Extras: 6 mm black safety eyes
See them on Ravelry!

I can't believe Easter is tomorrow!! It really snuck up on me. When I realized that Easter was this Sunday and not next weekend, I knew I didn't have enough time to make my nieces the Fuzzy Mitten toys I was planning. I still wanted to make something cute to send along to Camdyn, and was really glad when I found this little birdie pattern when surfing Raverly the other day.
If you're into instant gratification patterns like I am, this is right up your alley. You could easily knit several of these cuties up in one afternoon, so there is still plenty of time to knit a couple for your Easter baskets before tomorrow! Not only are these little birds quick, they're also really simple and they barely take any yarn at all.

I do have a few suggestions that may help make the pattern look a little cleaner. First I think the birds should be knit at a tighter gauge. Using size US 7 needles and worsted weight wool creates a fabric that stretches, showing the stuffing. I'd recommending using size US 6 or 5 needles instead. Second, change the m1 increases at the bottom of the body to kfb increases. The m1 increases tend to leave a little hole which the stuffing shows through. I used m1 increases for the bluebird and kfb increases for the chick, and I really prefer the way the chick's body looks. I also think that you could save some time by picking up the wing stitches on the body, instead of knitting them separately then seaming them on later.
These two little birds are flying off to Camdyn today. I know that she'll give them a good home.