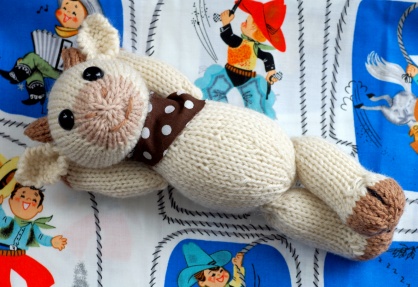 Project Specs
Pattern: Cowboy designed by Barbara Prime
Pattern Source: FuzzyMitten.com
Yarn: Cascade 220 in colors #8010 (main body color), #8622 (horns, hooves, nostrils, and mouth), and #8021 (face)
Needles: US 6 DPNs
Size: Almost 9" tall
Date Started: 3/8/07
Date Finished: 3/9/07
Modifications: Knit all the pieces in the round, left off spots, added extra row at nose/face area, embroidered brand
Extras: 12 mm black safety eyes
See him on Ravelry!

Howdy, everybody meet Cowpie! I was so happy to see that Barbara Prime had created a cow for her newest design. Alice and I grew up on a farm in Washington so I have a real soft spot for barnyard animals. When I was in kindergarten I had a cow of my very own that I bottle fed and raised. So to give Cowpie a bit of a personal touch, I embroidered my family's brand on his rear. Now he is officially part of the Bar Balloon Ranch!
This pattern was very easy to knit. I changed a few things to make the pattern a bit more convenient for me though, like converting all of the pieces to be knit in the round. This is such a simple alteration which saves a ton of time when it comes to finishing. I also altered the face a little by adding one extra knit round before the final decrease round of the nose. This just makes it stick out a little more to define the snout area better. The only thing missing in the pattern was instructions on where to switch to the nose color, so for Cowpie I switched colors right before the first face decrease round.

This is the second Fuzzy Mitten toy that I've made so far. The first one I knit was the little bunny that I gave to Camdyn for her 3rd birthday. It goes without saying that Barbara's designs are super cute. Honestly some day I will make everyone of her designs. I really love how quickly they come together, especially if you convert the pattern to be knit in the round. These toys would make the perfect last minute baby shower or birthday gift! I started on Cowpie yesterday around 6 pm and finished him up today at 3 pm. Less than 24 hours to make an adorable toy is pretty awesome, although I admit it would have taken me longer if I hadn't left off the spots.
I have a feeling that this is the first of many cowies I will be making in the future. I already have the perfect Cascade 220 color to make a Hereford (#2414 Ginger) and have plenty of black and white wool for a Holstein or Angus. I'm also thinking about making a bunch of these guys to give out to my family next Christmas.