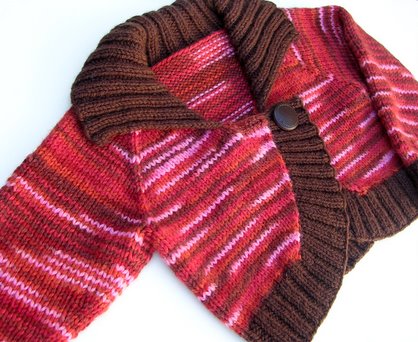 Project Specs
Pattern: Knitting Pure & Simple Children's Neckdown Bolero (#275)
Yarn: Patons Classic Merino in Regency, 1.15 skeins (255 yards), and Chestnut Brown, .6 skeins (140 yds)
Needles: US7 and US8 Denise Interchangeable Needles and Clover bamboo DPNs
Size Completed: 25" chest (Size 4)
Date started: 2-21-08
Date completed: 2-28-08
Modifications: Worked all the ribbing in a contrast color. Knit sleeves longer than called for in the pattern. Decreased 4 stitches before working ribbing at cuff, and knit the cuffs on US7 needles.

Well, last week Grace mentioned that she was sick. Not long after that something hit us here too—first Camdyn, then me, then my husband. It really put a cramp in my knitting! I had lots of plans for the last bit of this month and being sick didn't help at all. This little sweater really should have taken less than half as long as it did. It's a really quick pattern, and normally I would have been able to finish it in two or three days.
When I chose the yarn

for this bolero I thought it would be perfect for the current Project Spectrum colorway. After knitting the body of the sweater though, the mix of red, orange, pink, and brown was way busier than I had expected. I originally had planned to use the same yarn for the ribbing, but after some thought I chose a darker brown to tone the whole thing down. I am really glad I did, or this sweater would have just been way too crazy. I think the solid ribbing makes it much more wearable and the sweater is still funky and fun enough for a three year old.
I thought this pattern was easy to follow and well written. There is a lot of picking up stitches though, so if you're not keen on that this may not be the pattern for you.

Luckily I love picking up stitches! There really are no seams in this entire garment. I will definitely knit this pattern again—it has sizes all the way from Child's 2 through 10! I made very few changes to the pattern, and mostly just to prolong the amount of time Camdyn can wear this sweater. First I made the sleeves about 2" longer than called for so they would fall at the wrist rather than higher as shown in the pattern. I also decreased four stitches before working the ribbing on the sleeve, and worked the ribbing on a size smaller needle to draw it in a bit more.
Camdyn liked trying the bolero on as I went and it definitely was helpful to get the length I wanted at the sleeves. After each time she'd say, "I got to wait, it's not finished yet!" She was excited to wear it around once it was done. I think she is getting used to me knitting things for her because every time I get yarn out know she asks if I'm making a sweater for her. I am lucky to have a little one that likes wearing these things as much as I like knitting them!