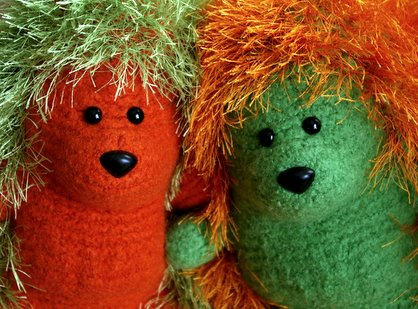 Project Specs
Pattern: Fiber Trends Huggable Hedgehog (228) by Debbie Radke
Finished Size: About 8" tall
Yarn: Cascade 220 #7814 (140 yards), Lion Brand Fun Fur #113 (60 yards); Cascade 220 #7824 (140 yards), Lion Brand Fun Fur #194 (60 yards).
Needles: US 10 (for front) and US 10.5 (for back) Denise Needles
Date Started: 2/13/08
Date Finished: 2/17/08
Modifications: Knit both hedgehogs on smaller needles.
See them on Ravelry

Okay I have officially jumped on the hedgehog bandwagon! I made these two cuties for Si as a late Valentines Day present since he had been requesting one for a while. He never asks me to knit him anything! They turned out so adorable, and they're much sweeter in person. You really can't help but hug and toss them around! I can now see why Alice has made so many; they're easy, quick, and just really fun.

These hedgies are a bit smaller than normal because I went down a needle size when knitting both the front and the back. If you follow the pattern exactly, you will use a little bit over one skein of Fun Fur. By decreasing the needle size, you will need only a single skein, which is great for me because I know I would never use up my Fun Fur remnants. If you make the smaller size be careful because you will need the entire skein! I finished both of these hedgehogs with just a few inches of yarn leftover so make sure you don't waste any.
Not only did Si pick out the colors, but he also added the faces and stuffed them. I always think that those two steps are some of the most difficult parts of making stuffed animals! For the faces he used 18 mm black acrylic safety animal noses and 9 mm safety eyes.
I don't know if I will ever catch up to Alice in the hedgehog count… I mean she has made a lot of them! I do have a few extra skeins of Fun Fur which I was thinking of using it to make a few hedgies to donate to charity around the holidays.