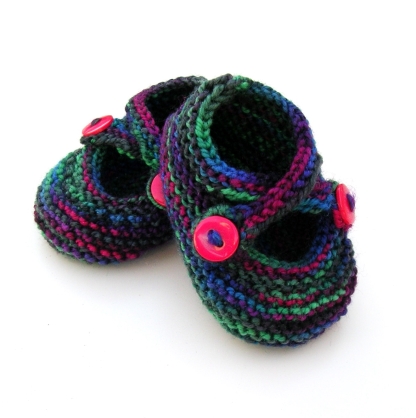 Project Specs
Pattern: Saartje's Bootees by Saartje de Bruijn
Pattern Source: Saartje Knits
Size Completed: Smaller
Yarn: Cherry Tree Hill Supersock in Quarry Hill, less than 50 yards
Needles: US2 Susan Bates Straights
Date Started: 2/9/08
Date Finished: 2/9/08
See them on Ravelry
I've seen tons of pictures of these finished booties before, but I still wasn't quite prepared for how utterly cute these really are! They're absolutely adorable. And talk about a quick knit, you could probably knit a pair of these booties (finishing and all) in less than two hours. No wonder there's over 1000 of these little guys on Ravelry!

I knit this little pair last night for a friend who just had a baby. They're so tiny, and I imagine they'll fit the baby right now but I don't for how much longer! They're slightly less than 3" long. I don't even know if I remember Camdyn's feet being so tiny! I think I may make another pair in the larger size to go with these just in case. I guess even if they don't fit for too long they'll look cute on a shelf or hanging from a rear view mirror.
This design looks absolutely perfect for little feet. Since both of the straps can be unbuttoned it will be easy to get baby's feet in. The straps look to be snug enough to fit little newborn ankles. I found the pattern easy to understand and even though these little booties are seamed, they're so small it wasn't terrible. If you're really not into seaming though, you can knit the booties in the round, like Adrian did. The most time consuming part of the whole process was adding the loops that fit over the buttons. I used this tutorial and it worked out great and is easy to understand. The button loops are very sturdy, so I'm happy!

I think I'll be knitting this pattern for every future baby I know. Like many have done before, I think these booties would be perfectly paired with a Baby Surprise Jacket or February Baby Sweater. I may have to check out my stash to find the perfect yarns!