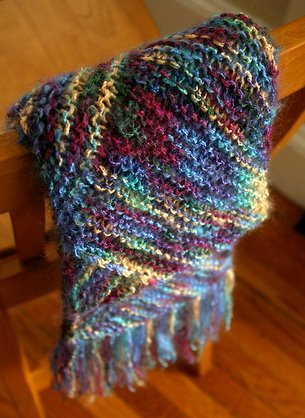 Project Specs
Pattern: Snowy Triangle Scarf designed by Iris Schreier
Pattern Source: Handknit Holidays by Melanie Falick
Size Completed: 65" long (75" with fringe) x 7" wide
Yarn: Fiesta La Boheme in color #11084 Australia, 1.5 skeins (254 yards)
Needles: US11 Denise Needles used as straights
Date Started: 1/29/08
Date Finished: 2/8/08
Modifications: Repeated Second Triangle instructions 6 times instead of the suggested 8. Also added 5" fringe to each end of scarf.
See it on Ravelry
I've been working away on my second Endpaper mitt, but took time out this morning to finish up a project I started late last month. The Snowy Triangle Scarf and Hat have been on my to-do list ever since I first bought Handknit Holidays. I love this book! There are so many great projects that are really diverse, fun, and beautiful. Since I have a rather hefty stash of Fiesta La Boheme without any specific purpose, and since it is the recommended yarn for the Snowy Triangle Scarf, I thought I'd dip into it.

This is one simple and really quick knit. I actually knit the scarf in two days working at a leisurely pace. The reason why I didn't finish it up until now is just simply because I've been putting off weaving in the ends and washing it, in other words, general laziness. After working about two rows of the second triangle, I had the pattern down pat. It is really intuitive and easy to get the hang of. You could easily play with the dimensions to create a wider scarf or wrap, or you could change the yarn choice to give it a whole different look. There are a lot of variations on Ravelry that you may check out before making your own! The only thing I did differently was to knit less of the body triangles because it was getting pretty long, and I knew that it would grow some more after washing. I also added fringe to the ends which I love!

I'm glad that I finally got to use some of this La Boheme I've had sitting around. I had never used this yarn before and was actually kind of nervous after hearing some horror stories about it. First it seems that people sometimes have a hard time winding it from the skein into a center pull ball since it is a two stranded yarn. The backside of the label gives pretty detailed instructions on how to wind it off properly, and if you follow them I don't think you'll have a problem. Just make sure you go slow! I thought knitting with La Boheme was really fun! It is a very unique yarn which I think is really gorgeous! There was a bit of color variation between the two skeins, but that is to be expected with any hand dyed yarn. One note about this yarn that is really important if you want to make this pattern is that you will need TWO 4 oz. skeins. The pattern says that only one skein is required, but it was apparently written when Fiesta was makingLa Boheme in 8 oz skeins. You should be able to get both the scarf and hat out of 8 oz. though.
I am sending this scarf off to my grandma this weekend. I am sure she'll be able to still get some use out of it this year in Washington. The Australia colorway really seems like something she'd like, so I am sure it will be well received! The scarf is light and airy, but the mohair traps the warmth so it is great even for cold days.
If you don't have Handknit Holidays, you might want to check out the Multidirectional Diagonal Scarf pattern (project page on Ravelry). It is really similar in design to the Snowy Triangle Scarf but totally free!