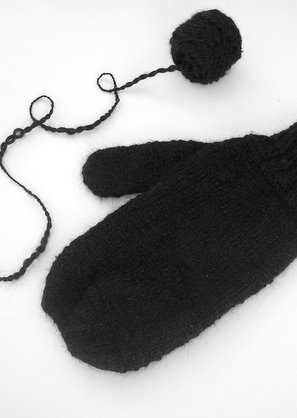 Project Specs
Pattern: Simply Mittens designed by Janice Lynn
Pattern Source: MadelineTosh.com
Yarn: Skacel Alpaca Seta, Black (#04), 1 ½ skeins (about 210 yards)
Needles: US3 Clover Bamboo DPNs
Date Started: 1/27/08
Date Finished: 1/30/08
Finished Dimensions: 4 ½" across hand, 10 ½" from cuff to fingertips
Modifications: Knit mittens at a larger gauge to fit my husband.
It's not very often that my husband asks me to knit him something, so when he requested a pair of mittens I was really excited. At first I thought this would be the perfect opportunity to finish up the Dashing Mitts I started forever ago, but then gave me some guidelines. He wanted plain mittens—no stripes, no cables—and in black. About as simple (and technically unexciting) as it gets I suppose. I ignored his request for awhile but with the cold front coming into town I decided to get started.

The yarn and the pattern came together surprisingly well. Alpaca Seta is classified as a DK weight yarn, but really it varies in thickness from a DK to almost lace weight at times. I really liked how this yarn knit up on size 3 needles at about 6.5 sts/inch. The fabric isn't open all and it has a really interesting and slightly nubby texture. This yarn is also extremely soft. It's 75% baby alpaca, 18% silk, and 7% nylon and feels very luxurious. I can't believe I picked this yarn up at about $3.00/ball off the sale rack when I purchased it over a year ago!
The pattern is written in woman's sizes but I only had to make a few adjustments to the pattern to make a men's size mitten. First I decided to knit the XL size but at a larger gauge. Fortunately I

had Kenny around to try the pattern on periodically so that I could adjust the length accordingly. I did encounter a couple of errors in numbers in the pattern. The first was after completing the cuff (for the ex-large size), you should have 22, 21, and 22 stitches on the three needles rather than 20, 21, 20 as the pattern suggests. The other problem I came to was while doing the thumb decreases. I completely took out the first round of thumb decreases because there weren't enough stitches. Luckily I could easily figure out what I needed to do, but it took a little extra time to get through them nonetheless. I've contacted MadelineTosh and hopefully she'll pass the word on to her pattern designer and they'll have the errors fixed up soon.
I really enjoyed knitting these mittens much more than I thought I would. Sometimes I think a little simplicity goes a long way. That's not to say that I can't wait to get my hands on some beautiful sock yarn to knit a pair of these mittens for myself. I have to admit a lot of the original appeal of the pattern was that I could use all the gorgeous fingering weight yarns out there that as non-sock knitter I don't get to experience. I may have to search Etsy for some pretty handspun for a pair of my own!