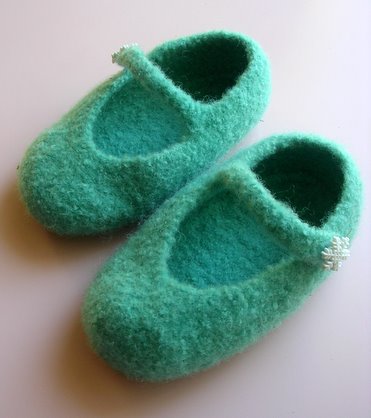 Project Specs
Pattern: Felt Ballerina Slippers by Bev Galaskes
Pattern Source: Fiber Trends pattern #AC-14
Size Completed: Child's small
Yarn: Ella Rae Classic Wool, Color #25 (125 yds)
Needles: Size US10.5 Denise 17" Circular
Date started: 12-?-06
Date completed: 1-9-08

Nope, those dates aren't wrong up there. These slippers were a UFO for over a year. I'm not exactly sure when I started these ballerina slippers for Camdyn, but I know that I had planned to give them to her two Christmases ago. After felting them, they were still quite a bit too big for her so they've been stashed away in a basket until I recently pulled them out and found out that they now fit Camdyn perfectly! All I had to do this morning was add the decorative buttons and snap closures.
I used leftover snowflake buttons from Camdyn's striped hat. And come to think of it, the light blue in the hat was the leftovers from these slippers! Camdyn seems to like wearing her new slippers around, and when I mentioned they were called ballerina slippers she really had fun trying to slide around on our floors and do some dance moves.

I would definitely recommend doing the version of the pattern that has a strap (especially for children). I couldn't imagine these staying on Camdyn's feet for more than a couple of seconds if they didn't have the help of the strap. I added snap closures to the bottom side of the strap so that Camdyn can easily put these on and take them off on her own. Although I knit this pattern up so long ago, I remember that they really flew off the needles. I'm sure I'll make this pattern again once Camdyn grows out of this pair, or maybe even a I'll make a pair for myself since the pattern has instructions ranging from Child's small to Women's large.
I am so glad that I finished up these little slippers. I vow to never let anything hang around as a UFO this long ever again!