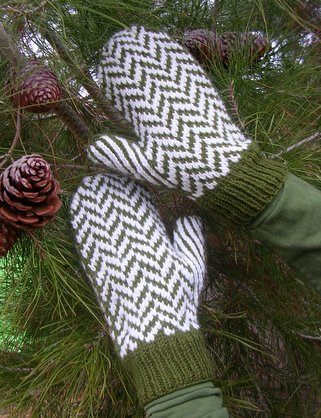 Project Specs
Pattern: Herringbone Mittens with Poms (PDF)
Pattern Source: Designed by Elli Stubenrauch of Elliphantom Knits
Size Completed: Medium
Yarn: Cascade 220 Superwash Wool #888, Deep Olive, (110 yds) and Jo-Ann Sensations Tesoro in White (75 yds)
Needles: Size US4 and US6 Clover Bamboo DPNs
Date started: 12-15-07
Date completed: 12-26-07
Modifications: Knitted the cuff in only one color, omitted pompoms and eyelet row.

The holiday craziness finally came to an end when my parents left Las Vegas this morning. We all had a great time and I really enjoyed celebrating Camdyn's 3rd birthday, two Christmas get-togethers, Grace and Si's wedding, our parent's wedding anniversary, and New Year's. It feels so quiet around here but I guess it's time for me to get back into the swing of things with both knitting and blogging. I have to apologize for being so behind in my blog reading and commenting. This week I have some serious catching up to do!
It's pretty late but at last I get to show you my final knitted Christmas gift of 2007. These mittens were given to my mom on the 27th after she arrived in Las Vegas. I really was knitting them up until the last minute. I was even working on them while we were waiting for Grace and Si to get their marriage license! Luckily this pattern knits up so fast I didn't have any trouble finishing my second mitten in time before the gift exchange.

I chose to knit these mittens out of superwash wool so they're easy for my mom to take care of. I also got to use yarn from my stash which is a big plus. I chose a deep olive color of Cascade 220 Wool—a yarn that I have used quite a few times now, and I have always liked working with it—and white Jo-Ann Tesoro. Tesoro is a washable wool (though the label has no indication that it is superwash) that is now discontinued. I really enjoyed working with Tesoro because it is extremely soft and bouncy feeling. I actually wish I had more of this yarn stashed!
Now that I've knit this pattern three times I've really gotten into a rhythm. Although these mittens were a WIP for almost two weeks, I actually knit up the first mitten in a few hours on the first day, and then didn't start the next one until much later. I can say this has to be one of my favorite patterns I knit last year and I'm sure I will knit it again this year! I've given away two pairs of these mittens as gifts now and both recipients have really loved them. This is a great pattern if you're looking for a last minute but impressive gift—it's also super fun to knit!
Although I am very pleased with the gifts I made this Christmas I really wish I would have had time to make more. Next Christmas I hope to give away twice as many handmade gifts as I did this time. Maybe I should start on them now? ;)