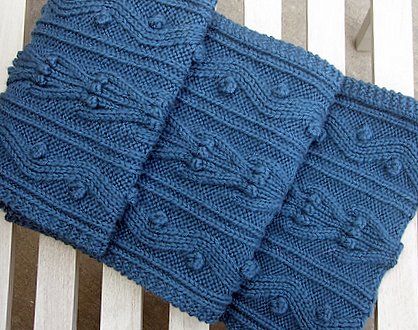 Project Specs
Pattern: Forbes Forest designed by Kathy Zimmerman
Pattern Source: Scarf Style
Yarn: Knit Picks Merino Style in Frost, almost 6 skeins
Size: 8.25" wide by 74" long
Needles: US 5 Denise needles
Date started: 9/10/07
Date completed: 12/18/07
See it on Ravelry

I guess it is fitting for this scarf to be the last Christmas gift I blog about, considering I started it first and finished it last out of all my holiday knits. I finished it on the flight to Las Vegas and blocked it at Alice's house, and sadly had to give it to Kenny a day late because it took 3 days to dry! Who knew things would dry slower in Vegas than in Boston? Even though it got to him a little late, it still looks great on him, making it a successful present in my book! Kenny says he loves it, especially the color, and I think that he'll get lots of use out of it.
I am really glad that I started this scarf back in September or I would have never finished it. Since it is pretty repetitive, it is a great thing to knit on in between other projects. Once you get the pattern down (I have to admit it took me entirely too long to memorize it), you can walk away from it for several days then come back to it with a fresh mind, no problem. I highly recommend trying to work the cables without a cable needle to save you some time especially since there are a lot of single stitch crossovers. This was my first time knitting bobbles, and although I didn't learn how to knit backwards, that would also have saved some time too.

Knit Picks Merino Style seems to be the most popular yarn used for this scarf, and I can see why. It is soft and inexpensive. However I did have a few problems with this yarn along the way. When I first ordered it, two of the six skeins they shipped me were sliced across the bottom. Luckily they shipped me two new skeins from the same dye lot very quickly. I have heard a lot of bad things about Knit Picks customer service, but I have never had a problem with them. The next problem I had happened after I washed the scarf and laid it out on the bed to dry. When I picked it up, there were a hundred blue dye patches left on the sheet. I knew there was some excess dye in the yarn because it had turned my needles blue, but I thought giving it a good wash in Kookaburra would take care of it. Boy was I wrong. I just hope that Kenny's neck doesn't turn blue after wearing this scarf! I would still recommend using this yarn because it is such a good deal and the color is so pretty (the color is slightly off in these pictures).
This is a great unisex scarf. I've seen versions that look great on men and women. The cable pattern is really interesting and easy to knit. If I were to reknit this scarf, I think that I would add a border of garter stitch at both ends. At the moment they look a little unfinished to me. Other than that, this is a great pattern to knit if you have the time. If you like the pattern, but scarf knitting isn't for you, be sure to check out the newest Interweave Knits. Kathy Zimmerman has designed a Forbes Forest Pullover that takes this same cable pattern and uses it in a cute sweater.