Okay, I'm sorry to resort to going back to old material, but the new stuff just isn't that exciting. The chevron scarf hasn't grown at all since my last post, and Version 1 of the Adult Cadet hat, well, let's just say there will be a Version 2. So, on that note…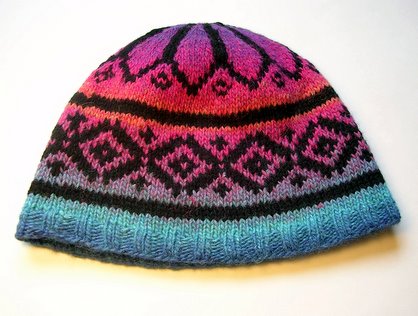 Project Specs
Pattern:
Fake Isle Hat
Pattern Source:
A free pattern by Amy King for
MagKnits
Yarn:
Less than on ball SWTC, small amount of Cascade 220 in black
Needles:
Addi Turbo size 6 16" circular
Date Started:
2/7/07
Date Finished:
2/9/07
Right after finishing the Inga Hat, I was craving more fair isle, so I quickly cast on for the Fake Isle hat. Using a ball of Karaoke from my stash I cast on for the M/L size hat. The first color that came up from the colorway was a bright lime green. Almost right after completing the ribbing, I came to a knot in my skein that joined the green with a turquoise blue. Instead of frogging, I took the easy route and split spliced the colors together and kept on going. The hat knit up really fast after that, and this time, my tension was much more even! That was the good news, then there's the bad news…

Knitting surgery. When I finished my hat the distinct color change between the lime and the blue stood out even more than I thought it would. It was bad. Plus I wasn't too thrilled with the 3 by 1 ribbing that the pattern specified. Luckily, the remaining part of the ball had quite a bit of blue in it so I decide to cut my knitting. Yes, though this wasn't the first time doing fair isle, it was the first time I had to do knitting surgery. I picked up the stitches and knit a 2 by 2 ribbing to finish it off. Luckily, it was so easy, went as planned, and it looks SO MUCH BETTER than before, don't you think?
And because I know they're so much fun to look at, here are the guts!