Can you believe it is less than two weeks until Christmas?? It's that time of the year where we're all rushing to get things finished, but I hope you're all not too stressed. I've been working on finishing up a few gifts, mainly spending my time knitting the Forbes Forest Scarf. Yes, I am still working on that! Currently it is now a little over 50" and I am shooting for somewhere around 75" once it's finished and blocked. Hopefully I'll get it done this weekend.
Alice and I have a few things planned to celebrate the season and thank all of you for visiting KathrynIvy.com! Next week we'll be announcing a giveaway for some goodies that I'm sure you'll enjoy. We also have a couple of patterns in the works, one premium and one free! The freebie will be posted sometime next week, and will be a set of patterns for felted mushrooms. There will be a variety of mushroom caps and stems that you can mix and match. Here's a little preview of just one of the many mushrooms you'll be able to create…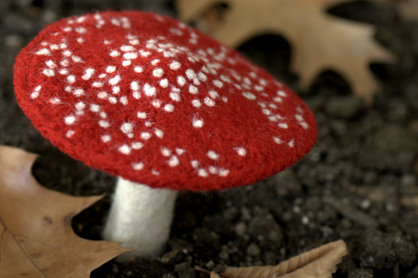 This is a broad mushroom with white spots needle felted on the cap after felting. The cap measures about 5" in diameter.