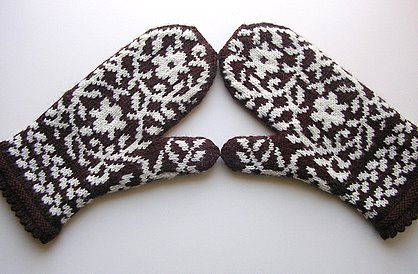 Project Specs
Pattern: Bird in Hand by Kate Gilbert
Size Knit: 8 1/4" finished size, 28 sts = 4 in
Yarn: Patons Classic Wool in Chestnut Brown (150 yds) and Winter White (80 yds)
Needles: US2 Clover Bamboo DPNS
Date started: 12-1-07
Date completed: 12-6-07
Modifications: Changed cuff pattern (see notes below)

I am so pleased to have another Christmas gift finished, and this is one I am very proud of (and also very tempted to keep for myself). I finished up my second Bird in Hand mitten yesterday, and I really love how these mittens turned out! They are just as beautiful as I had hoped.
My Grandmother has always liked birds so I think these mittens will be perfect for her. The little birdie detail is so cute, though I had a very difficult time embroidering the features on it. Adding little finishing touches like that have always been hard for me to get just right. I think the birds on these turned out fine but there's certainly room for improvement for me in the area of embroidery.
Like I mentioned before, I made only a few changes to the pattern—mostly in the cuff. If you're interested in my modifications, here's how I worked the cuff:

Work rounds 1-9 as directed.
Purl 3 rounds.
Knit 3 rounds.
Work round 16 as directed.
Work Left Leaf chart followed by Right Leaf chart (reverse the order for left hand mitten).
Work one row in MC, increasing 3 stitches.
Begin main color chart.
Honestly, the reason I didn't knit the original cuff for these mittens is that I really couldn't wrap my head around that braid! Granted, this was kind of late at night, but it seemed to be taking me forever. I do like how my modified cuffs look, but some day I may reattempt that braid. I also made some very minor changes to the color chart to make the flowers symmetrical.
I am definitely more confident in my colorwork skills after making these mittens. I got lots of practice wrapping long floats and keeping my tension even throughout. Overall I think I did a pretty good job. This was my first time knitting with size 2 needles, which was a bit of a shock for me, but after knitting with them my size 7s feel huge!
This really was a great pattern to knit, with such a unique and fun design. I can't believe Kate Gilbert has the time to come up with such amazing designs with a two year old running around, but she does it! I also have her Wintergreen mitten pattern that I want to knit eventually. They'll have to wait until I finish up Christmas gifts though. So far I still have the Dashing mitts for Kenny and another hedgehog to finish up, plus I need to start on another pair of Bird in Hand mittens for my other grandmother… The problem is I keep on thinking of things I want to knit for gifts! We'll see how much more I get done before Christmas gets here! :)