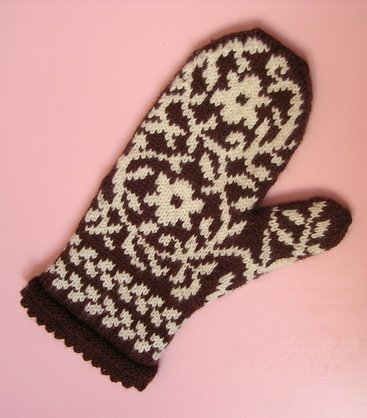 The title pretty much sums up how I felt about the Bird in Hand mittens by Kate Gilbert when I first saw them. Not only are these fantastic mittens, they're definitely knitted works of art. I love the organic feel of the colorwork pattern, and the little surprise on the thumb is just the cutest. I really couldn't wait to cast on for these.
I knit almost constantly Saturday to finish up the first mitten and I think it turned out great. I am planning on giving these as a gift to my grandmother, though I am a little worried that they might be a tad small. They grew some during blocking and now fit me pretty well—maybe just a bit roomy—so I hope that they end just right for her.

As you can see my mitten differs slightly from the original. This one is knit without the braids and I put in three purl rows after the picot edging instead. I doubled up on the leaf chart because I really loved how the leaves looked on the original mittens. I also made a couple minor adjustments to the colorwork to make the flowers symmetrical. Last night I started on the second mitten (after giving my hands a little bit of a rest) so I hope that I can finish these up fairly quickly.
Because of my obsession with fair isle mittens lately, I decided to join a mitten knit-along in the Stranded group on Ravelry. I am excited to see what others knit up this month, and I think that it will push me to complete everything that I have planned. After finishing up these mittens I am planning to make a few more pairs of stranded mittens as gifts—including another pair of Bird in Hand mittens for my other grandmother. I really hope I can finish everything in time for Christmas*!
*Actually the deadline is quite a bit sooner than X-mas. I want to get all the gifts sent out at least ten days before the big day to avoid any postal service snafus…