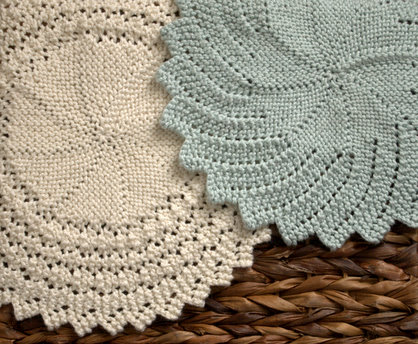 Project Specs
Pattern: Bathtime Blossoms (224x)
Pattern Source: Designed by Evelyn A. Clark for Fiber Trends
Yarn: TLC Cotton Plus in Mint (92 yards) and Cream (106 yards)
Needles: Size US5 straight needles
Date started: 11/27/07
Date completed: 12/1/07
Size: Mint Blossom Washcloth: 10", Cream Flowered Wreath Washcloth: 12"
I took a quick break from making gifts to treat myself to a little present. These washcloths are the first things I've knit for myself in months! Knit out of pure necessity, I'm hoping that they'll be able to replace my loofah. I wanted something that I could machine wash and dry as well as look pretty, so these washcloths are prefect for the job. They were so easy to knit; they're completely worked flat with a single whip stitch seam needed for finishing. The pattern was really well written with three designs to choose from (I would have knit all three washcloth designs if I had one more skein of yarn). There is also instructions for matching soap sacks, which paired with a washcloth would make a wonderful gift for anyone!

The pattern calls for a Fingering weight cotton instead I used a worsted weight cotton/acrylic blend. This TLC Cotton Plus has been in my stash almost since I first started knitting, and I am glad to have finally found the perfect use for it. Using the worsted weight yarn made them come out slightly larger, but I think they are a good wash cloth size. If for some reason the Flowered Wreath Washcloth seems too big, I can always use it as a fancy hand towel.
If you want to make a similar washcloth but don't want to buy the pattern, there are a ton of great free patterns out there. The Petal Dishcloth and Round Dishcloth from Dishcloth Boutique are basically the same design as Bathtime Blossoms and are constructed in exactly the same way. Also one of my favorites, the Ballband Dishcloth from the book Mason-Dixon Kitting, can be found free online. Fiber Trends also has another washcloth pattern called Bathing Beauties which is also really pretty.