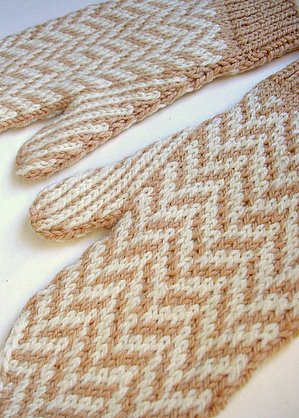 Project Specs
Pattern: Herringbone Mittens with Poms (PDF)
Pattern Source: Designed by Elli Stubenrauch of Elliphantom Knits
Size Completed: Medium
Yarn: Patons Classic Merino Wool in Camel (110 yds) and Winter White (75 yds)
Needles: Size US4 and US6 Clover Bamboo DPNs
Date started: 11-17-07
Date completed: 11-18-07
Modifications: Knitted the cuff in only one color, omitted pompoms and eyelet row.


Wow, so I have to say this pattern is just as good the second time around. I knit this pair of mittens up so fast last week I didn't even get a chance to take any pictures of them in progress! The pattern went really quickly for me because I really had the hang of the colorwork pattern this time and barely needed to look at the color chart after the thumb increases.
The color combo I used for these mittens is much more muted than last time around, but I love it just as much. They're nice and neutral and I think they'll go with lots of things. This pair of mittens is actually being sent out as a gift, so I hope the recipient gets lots of use out of them and loves them as much as I do! I know for sure I'll have to knit this pattern AT LEAST one more time so I can have a pair in more muted colors for myself.

I opted to leave off the pompoms this time to go with the more classic look—plus I think it fits the recipient a bit more. I have gotten a couple of questions about how I made the pompoms removable on the last pair of Herringbone mittens so I wanted to take some pictures and try to explain it a bit better. First, after crocheting a chain and attaching the pompom leave a small loop

of yarn when you are weaving in the tail on the other end. After threading the chain through the eyelet holes on the mitten, pull the crochet chain back through the loop. This creates an adjustable knot that then can be placed around the pompom. Tighten the slip knot to secure the pom. Now you can wear your new mittens with or without the poms! I hope I explained it a bit better this time, but please

feel free to ask if you have any other questions.
After completing these mittens I'm feeling a lot more comfortable with stranded knitting done on DPNs. I think I might be ready now to take on the Anemoi Mitten pattern. I've always loved those mittens, and had the yarn and the pattern for quite a long time. The small needles and the colorwork chart have always intimidated me a bit, but I feel it's about time I face my fears when it comes to these mittens. Hopefully before the end of the year I can start on some lovely Anemois!