You could definitely say I've got a one track mind lately, and all I can think about is mittens! I'm very tempted to neglect all of my holiday knitting and see how many pairs of mittens I can knit before the end of the month. They are just so fun to knit—the only downside I can see is that you actually have to knit two of them. Honestly people, is this what it's like when you knit your first pair of socks too? Like you just don't want to stop? Anyways, I've even got Grace itching to finish up her projects on the needles so she can join in on the mitten-y fun.

I started my second pair of mittens last night after looking through my books and magazines for the perfect pair. I decided on the Super Mittens from Weekend Knitting by Melanie Falick. This was one of the first knitting books that I bought, and I had yet to make something from it! I also knew I could use some yarn from my stash that I'd been meaning to find a pattern for for a long time—Debbie Bliss Cashmerino Superchunky. The yarn is the perfect wintry color (a nice icy blue) and these mittens are to be really cozy and soft to wear sitting around the fire pit outside or going on a walk to look at the holiday lights.
All this mitten talk has me wondering what are your favorite mitten patterns? There are so many out there I'd love to hear what you guys have had the best time knitting!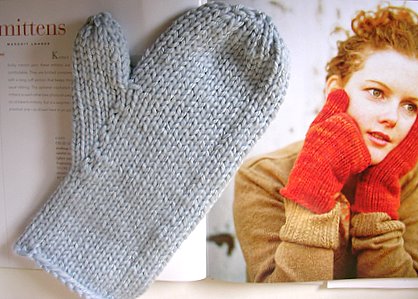 P.S. Thanks for all the nice comments on my Herringbone Mittens you guys really know how to make a girl feel good!