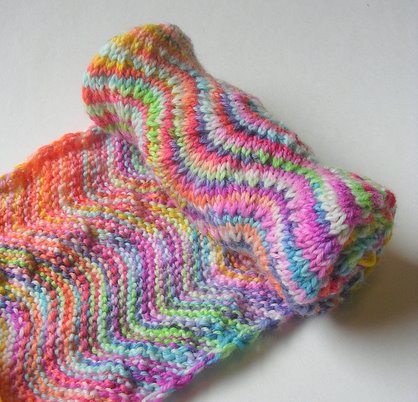 The LMKG Chevron Scarf is now over two feet. My progress has slowed down a bit—don't get me wrong, I still love knitting on this—I've just thrown a few other projects into the mix. I'm thinking once I get to about three feet finished, I'll block it to get an idea of how much it will grow. I want my finished scarf to end up about six feet long.

I used up the last of the egg dye that I had already mixed up. It had been sitting in the fridge for a few days and even though it wasn't fresh, I still like the results. I do think they turned out slightly less bright than my other dyed yarns. The top three yarns are all Cascade 220, and the bottom is KnitPicks Superwash fingering weight. All the colors remind me of spring. I think I am done with dyeing for a bit, though I did stock up on quite a few more packages of egg dye that will be perfect for the next time I'm inspired.
Other than that, things have been fairly calm here. I've been working on testing the adult size Cadet Hat pattern, so I am hoping to figure out if I need to tweek anything else by the end of the weekend! It's looking like it will turn out great! Stay tuned!