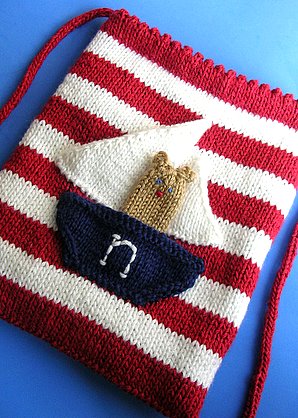 Project Specs
Pattern: Buddy Bag (bear-y version) a pattern by Anny Purls
Yarn: TLC Cotton Plus in 3907 Red and 3001 White, and Bernat Satin in 04110 Navy and 04011 Brown
Needles: Addi Turbo US6 16" circular, Clover US3 DPNs
Date started: 11-2-07
Date completed: 11-7-07

Mark another gift off as finished! Last night I put the final touches on this sweet little bag. This time around I really took special care to have high quality finishing and I'm really pleased with how it looks. Well, for the most part, I can never seem to get my I-cord to look that great. Anyone out there have any secrets to knitting pristine I-cord?

This bear-y nautical buddy bag is going to be a Christmas gift for my cousin's daughter Natalie so I embroidered a little 'n' on the front of the boat. I think it really adds that special little touch! In fact, it's one of my favorite things about this bag! Actually, I love the color scheme, the lining, the darling little finger puppet… yeah I guess you could say I love pretty much everything.
Once again TLC Cotton Plus really was the perfect yarn for this bag. I love the fact that I am finally using this yarn up—though really I have tons more, so I definitely see more buddy bags in my future! This was my first time using Bernat Satin, which is 100% acrylic. It's very soft but it is splitty and fuzzes up a bit if you handle it too much. I think it works well for this bag though, especially where small kids are concerned there's no need to use anything too fancy.

I won't be able to see Natalie open her present when x-mas comes around but I really hope she loves it and it gets lots of use. I think it will be perfect for her to carry to daycare or for taking her favorite toys over to her grandparents' house. I know that Camdyn likes to take her buddy bag to the store, on car rides, or basically anywhere that she wants to have extra toys along! Once again I have to wholeheartedly say how much I really like this pattern and it certainly makes a great gift for young kids. I think it would also be cute to give to an expectant mother at a baby shower and would be useful to carry around a few diapers and wipes. The finger puppet would also come in handy when you need to cheer up a fussy baby!