Wow, I can't believe it's been 10 days since I posted! Things have been a bit busy here in Vegas—we've had lots of family and friends in town the last couple of weeks, and I'm still recovering from all the excitement! Luckily I have Grace to pick up my slack, and boy she has made some really great things lately, hasn't she?

With all the craziness I haven't done very much knitting. On top of being super busy, I have to say I definitely wasn't in love with the project I was working on—my entrelac scarf. I love the look and love the technique, but man this yarn is hell to knit with! I've tried loosening up, holding my yarn differently and adjusting my tension but nothing has seemed to help with the bunching problem. I finally gave in and cut the yarn for a temporary fix, but the yarn is still being a real pain, so I've set that aside for the moment. I hope I can push myself to knit through and complete this scarf, though I am pretty sure this yarn would be better fit for a project where you only work in small sections. I'm thinking maybe a log cabin or mitered square pillow or something?
To get my mind off that darn scarf, I've started on another gift. This one I know I'll enjoy knitting, because I loved the project when I made one for Camdyn a few months ago. This time I'm making the Beary version of the Buddy Bag pattern by Anny Purls. I'm using TLC Cotton Plus in red and white, as well as Bernat Satin (this is a totally new yarn to me, so we'll see how this goes!) for the bear and boat. I chose a navy blue fabric with white polka dots for the lining, which I think will add to the nautical feel I want this bag to have.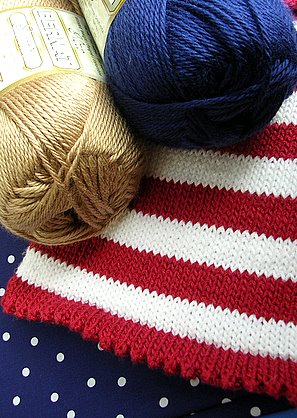 I've also been constantly checking Anny's site for the release of her Peace Baby! pattern. I think this is such a cute set for a child, with a great message. Plus Anny plans to donate the proceeds from the sale of the pattern to charity. The pattern is supposed to be released on the 5th, so please stop by her site if you're looking for an adorable and (what I'm sure will be) a very well written pattern!