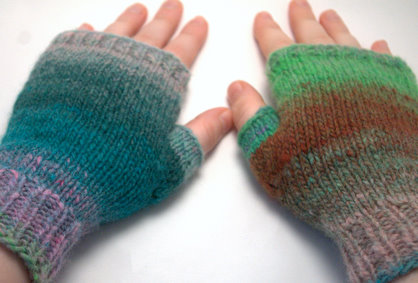 Project Specs
Pattern: Kolenya
Pattern Source: A free pattern from Sheep and No City.
Yarn: Noro Kureyon in color #33, less than 1 skein (92 yards)
Needles: US 5 DPNs
Date Started: 10/22/07
Date Finished: 10/23/07
Modifications: Added one more knit row before starting the thumb gussets and left out the bridges.

Boy were these gloves a quick knit! I think that they could easily be a one day project, and they're the perfect stash buster. Also there isn't anything difficult about the construction, so this is a great pattern for beginners. I made these as a Christmas present for my friend after she requested a pair of gloves to use while driving. I really hope that she likes them! I am definitely going to make a pair of these for myself. I don't have any gloves and winter here in Boston is coming up fast. There is already a chill in the air and a pair of these will be perfect to wear around the apartment or out to get groceries.

This was actually my first time ever using Noro Kureyon. I have a lot of it stashed away, but for some reason I never got around to using it until now. It is a little bit scratchy, but totally fine for a pair of mitts. I couldn't really imagine wearing a sweater made out of the stuff, but it seems good for accessories. I love the variety of colors in this colorway, and it is amazing how different each glove came out. They almost don't look like they match! Personally, I love that about them. If you're looking for a good deal on Kureyon or Silk Garden to make yourself a pair of Kolenya mitts, check out Little Knits. They have a few color ways of Kureyon for $5.10 and Silk Garden for $6.60, so check 'em out! I may just have to add a few more skeins to my stash…
Speaking of beefing up my stash, I went to Webs last weekend! I've been wanting to go there ever since before I moved to Massachusetts. Their selection is amazing, and I was completely overwhelmed when I went to the warehouse part in the back of the store filled with all of their closeout yarns. I wish I had pictures to post, but when I pulled out my camera I realized that I left my memory card at home. :( While I was there I got a few skeins of Lamb's Pride Worsted for more Christmas presents, a skein of Rowan Felted Tweed for a Shedir, Reynolds Lopi Lite for a baby sized alpaca or llama, and some close out Silk Garden Lite. Thank you Sue and Ray for taking me! I can't wait to go back!