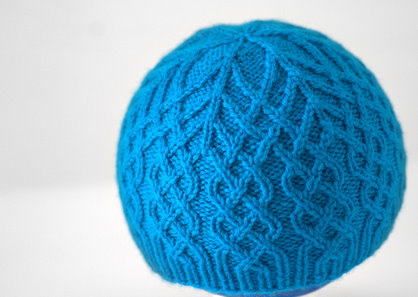 Project Specs
Pattern: Baby Shedir
Pattern Source: Shedir from Knitty modified using instructions given at Something From Nothing.
Yarn: Knit Picks Merino Style in Frost, 1 skein
Needles: US 3 bamboo Clover DPNs
Date Started: 10/19/07
Date Finished: 10/21/07

Last weekend I finally got all of my Christmas presents finished for Jojo! To go along with her Baby Shrug, I made a baby sized Shedir stocking cap. I think it turned out so cute! I've liked Shedir hats for a long time, and when I ran across AnnyPurl's version on Ravelry, I just knew I had to make one for my niece! This hat was a great stash busting project too because it used up my last skein of Knit Picks Merino Style left over from my Shetland Triangle shawl. I used about 100 yards from the skein, so I might save the last bits to make a Scrap-happy Celebration hat.
The pattern mods are pretty easy to follow, but I thought it would be helpful to say exactly which rows I knit and which ones I skipped over. Start by CO 96 sts, work rows 1-6, 10-36, 53-71, 74, 77, 80, and 82. That's basically it! Anny said that this pattern will fit babies ages 3-6 months. I think that it will be stretchy enough to fit Jojo at Christmas when she is 8 months old, and it will probably even fit her for a while longer than that. I can't wait to have her try it on! :) I am lucky to have two adorable nieces to knit baby items for since I don't have any kids of my own.

The pattern itself was pretty easy to follow. I have been putting off making one for myself because whenever I looked at the cable chart I always got intimidated. However once I got into it and started knitting it wasn't nearly as difficult as I thought! The only part of the pattern I was confused at was at Row 54 when the start of the row begins to migrate. It didn't take that long to get the hang of though. All in all I really like the pattern; it's definitely a classic and it seems like almost everyone has made one. The only thing I am not crazy about are the little holes created by the increases right after the ribbing. I don't know if is just the way I did the increase that created a hole or what, but I may try a different type of increase next time when I make one of these hats for myself. If you're planning on making a Shedir for yourself sometime the only real suggestion I have is to learn how to cable without a cable needle. It really makes things go so much faster!!