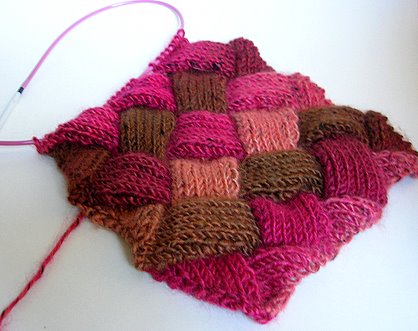 I've started on another gift! This time I'm trying out a technique I've never used before—entrelac. So far I think it's going pretty well, though I haven't gotten comfortable enough to work without the pattern. I'm using the Entrelac Scarf Pattern written by Allison at Freckles and Purls. It's a well written pattern and easy to understand, so I'm glad I chose to use it for my first attempt at entrelac!

The yarn I'm still not quite sure about. It's Traditions by Debbie Mumm for Jo-Ann. It's a new yarn that is available from Jo-Ann stores, and has coloring very similar to Noro yarns (though the colors available are much more tonal, and not as many different colors in one skein). The make up is 75% acrylic, 23% wool and 2% "other," and from just feeling it at the store it seemed much softer and squishier than Noro.
After I started knitting with it there was a bit of a problem, and I'm not sure if this will be any different with the next skein I knit—the yarn that is wrapped around the "core" part of the yarn is a bit loose and now I've developed quite a bit of slack where I've had to keep pushing the outer layer of yarn down as I knit. I can just see this getting worse and worse as I go along, but I'm hesitant to cut it and interrupt the colors and I think it would just start up again anyways.
The colors are looking very pretty, so I'm going to keep chugging along. I really hope I start to like this yarn more, because I think it is great that there's an alternative to Noro that's available in a big craft store. I actually purchased a few more skeins of this yarn for another gift already, though I'll have to decide whether or not I want to keep it after I finish up this scarf! I really really want to like this yarn—there are already some pretty projects popping up that have used this yarn, so I hope my feelings about it change!