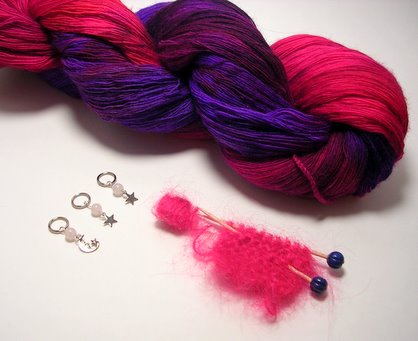 Luck has definitely been present here at Kathryn Ivy lately. First Grace won some great yarn and goodies from a contest at The Longest Yarn, and yesterday I received an awesome package from a contest on Tricot Treat!
I found about about Maylin's contest via Ravelry, and the second I saw the picture of her hand dyed yarn I knew I really wanted to win this one! What I received was 1200m of Laceweight Bluefaced Leicester yarn. I've never worked with BFL, but man this stuff is seriously soft! I must practice my lace knitting… I'm almost thinking of frogging my (miniscule) progress on Icarus to make one out of this instead. It is just so gorgeous. I love the mix of reds and purples!
Maylin also included some great extras: a super cute knitting pin and lovely stitch markers. Thank you so much Maylin!
Definitely keep an eye on her Etsy Shop where she sells her hand dyed yarns and fibers. She has some really gorgeous things in her shop right now, and I can't wait to see what she adds next!