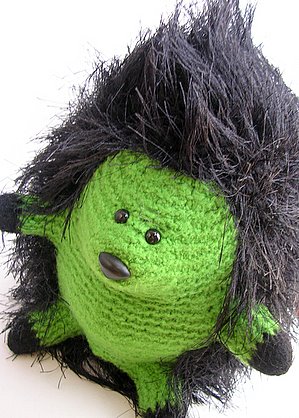 This is Zeke. He's a self proclaimed "metrosexual" hedgehog with what he says is "the best faux-hawk west of the Mississippi." He loves hanging out at the hottest clubs in Vegas in hopes to see a celebrity someday! Zeke spends entirely too much time reading US Weekly and watching his taped episodes of Blow Out.
Project Specs
Pattern: Fiber Trends Huggable Hedgehog (228) by Debbie Radke
Yarn: Cascade 220 Wool in Black (8555) and Green (7814), JoAnn Sensations Cello in Black (3150)
Needles: US 10.5 and US 11 Denise needles
Date started: 9-28-07
Date completed: 10-6-07

This morning I put the finishing touches on this little guy and I just can't stop smiling! He has to be one of the cutest hedgies I've made so far. He is so fluffy and cuddly. I love how his hair is long and crazy and so fun to play with! I really hope the little boy who receives him as a gift this Christmas has as much fun with him as I have so far.
I don't know if I can emphasize it enough, but this is really a fantastically written and designed pattern. It's certainly not mindless, but I wouldn't call it difficult though there are lots of different techniques involved. You really just have to go with the flow and trust the pattern. I've really gotten an understanding of short rows after knitting this pattern so many times, and I no longer cringe at the thought of having to pick up stitches. I urge everyone to give this pattern a try! Plus, it's a great way to use up any novelty yarn you might have laying around…
This is my first finished x-mas gift so far, and I am so happy with how it turned out. My gift knitting is now off on the right foot!