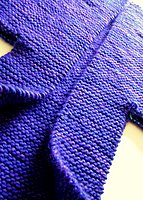 I'm still trucking along on the Tomten Jacket for Camdyn. Yesterday I finished the armhole section of the pattern and now I've moved onto the hood. I debated between the hood and the more simple collar version for a short while, but the thought of Camdyn in a cute and pointy elfish hood is just irresistible!
Although this jacket is done totally in garter stitch, it's not an entirely a mindless knit. I like the fact that after each section I have to read through the pattern again and evaluate what the next step is. Sometimes I find I need write out Elizabeth's concise instructions on a separate piece of paper in my own more wordy approach to help me keep track of my progress, which is totally fine by me.

I'm loving really getting involved in this pattern and trying to better understand EZ's genius. It excites me that one pattern can yield so many different versions, which explains why so many people knit this pattern over and over!
Now that it's starting to remotely resemble a jacket, I had Camdyn try it on to get an idea of how it will fit her. From the looks of it, it's going to fit perfectly this Fall and Winter! She also did not want to take it off, and started rubbing the squishy garter stitch Malabrigo on her cheeks. I have a feeling this will be a well loved coat!