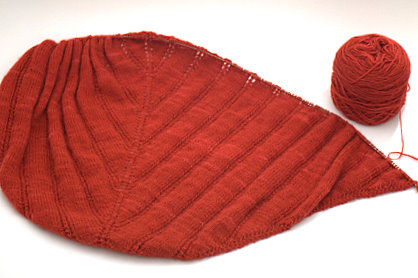 It's been quite a while since I last updated you about my Icarus Shawl. I've been working away on it pretty steadily up until yesterday. I decided to slow down a bit and wait for Alice to get her needles so we can work on it at the same time for a least a little while! I've completed the fourth repeat of Chart 1, and I've got one more to go before I decide if I am going to work extra repeats or not. I've memorized the pattern and finally got used to working with the lace weight yarn so things have been moving along very smoothly! Although the pattern isn't very exciting yet, I've fallen even more in love with this yarn as I continue to work with it, but I am a bit concerned that it is going to fuzz and pill like crazy! If you've worked with Malabrigo Lace before, can you tell me how it wears? So in the meantime, while my Icarus progress has slowed for a few days, I'd like to show you some of my favorites!
Elemmaciltur's Wollmeise Lace-weight Icarus is coming along beautifully! I really love the color and I can't wait to see how it turns out.
Kim at Crafty Kim is making a Malabrigo Lace Icarus just like me!! The colorway she is knitting hers in has way more color variation than mine, and I'm a tad bit jealous. It's really pretty so far, and I really want to see it finished!
I have one more Icarus I'd like to show you knit by Kirsten from Through the Loops! She made another really amazing Malabrigo Lace Icarus which totally inspired me to use this yarn for this shawl. I love the pinks and reds in the Garnet colorway! I found her shawl via Ravelry, so if you have an acount you should go check out all the other amazing Icarus Shawls people have made. There are 240 projects, 143 of which are finished.
Lastly when I set down my Icarus, I picked up a which has been sitting on the needles, untouched for about a week. I started the new Squid-A-Licious pattern by Hansi Singh. I'm almost finished, just need to add one more fin and the eyes and then I'll be finished! I'll try to complete it tonight and give you all the details tomorrow. Hope you're all having a happy long Labor Day weekend!