I've always loved embroidery, so when I came across the work of Eva from Apple and Eve, I was totally blown away. I originally found her work via Flickr, where she has uploaded photos of her beautifully embroidered birds, bunnies, cats, and puppies. Each item she creates is unique and absolutely gorgeous. She sells her creations in her Etsy shop which is well stocked with unique handcrafted items. You can even get her creations personalized!

I immediately fell in love with her Meadow Bird designs, and knew I had to get them. I ended up buying the entire collection of Meadow Birds, one for each season. Let me tell you, they're even more beautiful in person. Each stitch is perfectly placed, and her designs are so clean. Both sides of the birds are adorned with delicate flowers, and the colors she chooses work so well together. I couldn't be happier with these beautiful pieces, and now I just need to find a place in my apartment worthy of them!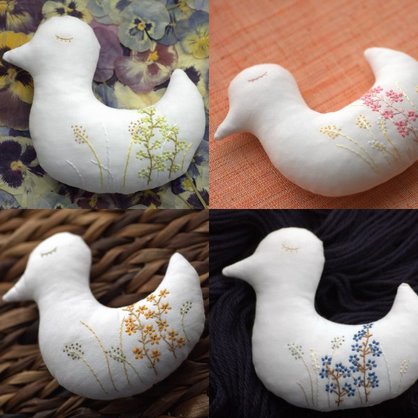 Eva also created a special cat for me inspired by my kitty Peanut. I've named the cat Butter, and I love him! He is embroidered with winding flowers which gradually change from orange to cream. She just started adding these cats to her Etsy shop and has recently listed the most adorable creation named Miss Kitty of Cocoa Flowers. I also received a beautiful little heart shaped ornament with my name embroidered on one side. I absolutely love everything she makes!

My packages arrived so quickly, even being sent from Germany, and they were also wrapped up so nicely. She puts so much detail in to every aspect of her business it is amazing. She is also one of the kindest people I have ever dealt with! I can't wait to do business with her again, which will be soon because I plan on placing a big Christmas order. They will make perfect gifts, especially since they can be personalized. If you'd like to know more about Eva's work please check out her website and an interview she recently had with the European Street Team in which she talks about her art and influences.
Keep up the great work Eva! Your softies are truly one of a kind.