Yes, as some of you may have guessed the little critters that are destined to be enemies with the wolf are these darling little piggies.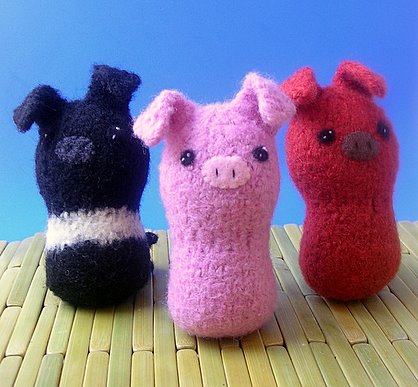 Project Specs
Pattern: Pig
Pattern Source: Born in a Barn, Volume One from Crafty Alien
Yarn: Patons Classic Wool in Black, Winter White, Paprika, and Petal
Needles: Size US10 Denise circular
Date Started: 8/22/07
Date Finished: 8/25/07


I knew I couldn't be content with three normal pink piggies, especially since my sisters and I raised pigs in 4-H for so many years. I decided to make a Hampshire (named Hammy) and a Duroc (named Rock) to go along with a pink Yorkshire (named Yorkie). We owned and trained many pigs of these breeds so making these really brought back memories! I only had to make a slight change to the pattern make the Hampshire. I picked up the stitches for the body in white, and knit 4 rows in white before switching back to black.

Once again I couldn't be happier with how these guys turned out, but these patterns are quite fiddly and though they are so small they really do take quite a bit of time to complete. The knitting is very simple, but the finishing feels like it takes forever! I told Grace that these critters are just like tattoos—the end result is so awesome that you always forget the pain involved to get there… and you always end up wanting more ;) I'm sure I'll be knitting other Crafty Alien's patterns in the future, they're just too cute not to!

Camdyn loves the pigs and the wolf, and I actually had to go searching for a couple of the pigs so I could get a photo shoot. I'm so glad that she finds things like this just as exciting as (most) store bought toys. I suppose when she gets too old to appreciate them I won't mind too much, because that means I'll get to put them up on my shelves to keep me company!