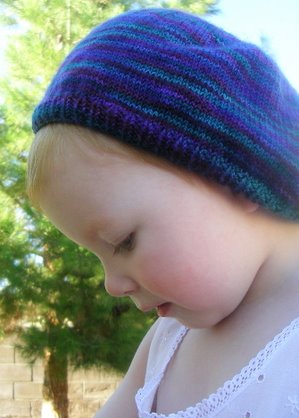 Project Specs
Pattern: Purl Beret
Pattern Source: A free pattern from The Purl Bee
Yarn: Cherry Tree Hill Supersock, Blueberry Hill colorway
Needles: US 3 Addi Turbo circular needles
Date Started: 8/10/07
Date Finished: 8/20/07
Modifications: Cast on 114 stitches, knit only 3.5" before starting decreases. Modified other numbers accordingly for a smaller beret.


I started this hat when I was putting off other projects and then let it sit around for awhile before I finished it up today. I have to say it is such a cute hat! It will be perfect to throw on in the fall when it starts getting cooler. As it is, it's nice and slouchy and will fit Camdyn for quite some time. I enjoyed working with this yarn. It wasn't splitty, was very nicely plied, and quite soft to work with. The colors subtly spiral around the hat beautifully without any odd pooling. I also love that it's washable… which is pretty much a must for Camdyn hats because they always seem to get thrown on the ground sometime or another!
This was a straight forward pattern and easy to modify. My biggest modifications were casting on less stitches and knitting it a tad shorter. I also took note of the other minor changes I made if anyone else is interested in making a smaller version. In Row 1 of the crown section I only decreased one stitch instead of two. I also changed Decrease Row 5 to K1, K2tog four times. As you can see it was easy to make the numbers work out! I think it turned out to be the perfect toddler/child size and will even be able to be blocked larger if need be in the future.
Camdyn loves her new hat too, though I think she loves the modeling part even more. She would pose all day if I let her ;)