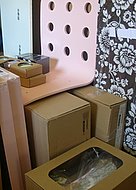 I'm glad to say that I had a great couple of days, including a fun IKEA shopping spree and a relaxing birthday. Yep, yesterday I turned 26! I had a really nice day, especially because Kenny got a rare two days off work so we had a blast spending it together as a family. Wednesday we made quite a trek to IKEA. I can't believe we don't have one here in Las Vegas! I really wish we did, because the closest ones are outside of L.A. It was worth the drive though, and we got lots of much needed things. It was also fun to check out some of their new items, though lots of them hadn't arrived at the store yet (boo!). I supposed we really couldn't have fit anything else in the car—we were packed to the top!
I also got to treat myself to some great yarn deals too. I was excited to see an e-mail in my inbox announcing a sale at Diva Knitting through August 12. There are quite a few colors of Noro Silk Garden, priced at $8.09, and Noro Kuryeon is $6.79. If you're looking for a fun new pattern, Pick Up Sticks felted flower patterns are only $3.85. Also if you've been seeking out a deal on a knitting bag, it looks like all their Namaste Knitting Bags are 35% off! Shipping is free on orders over $50 too, so you really can't go wrong—in fact, I just got an e-mail and my order already shipped!
Also, Grace pointed me to a sale at Knit2Purl2.com* that she found via the Yarn Sales group on Ravelry. Malabrigo is on sale for $6.00 a skein, which is a real steal! I ended up buying some for a Tomten Jacket for Camdyn, and a couple extra skeins for other little projects. SWTC Bamboo for $6.50 and SWTC Karaoke for $4.50 struck me as good deals too, but I didn't end up getting any. I took advantage of the Blue Sky Alpaca Bulky for $5.00 each and picked up a couple for the Uptown Scarf from Weekend Knitting. There also seems to be quite a few other good buys around the site, so be sure to look around. Shipping isn't free, but it seemed pretty reasonable.
*ETA: It looks like the owner of Knit2Purl2 has disabled the shopping cart for awhile so she can get caught up on the orders that have already gone through. She said it should be up and running again at 6 a.m. (EST I believe) tomorrow morning, though I doubt there will be much left! Grace placed her order before me and got an e-mail that there wasn't any Malabrigo left in stock, so her order was canceled… so I'm just kinda waiting for that bad news e-mail too!