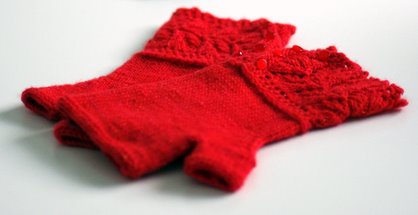 Project Specs
Pattern: Veyla by Ysolda Teague
Pattern Source: Avaliable as part of the Whimsical Little Knits 2 E-book Yarn: 28g (263 yds) Malabrigo Lace in Vermillion (held double throughout)
Needles: US3 Clover Bamboo DPNs
Size knit: Large
Date Started: 3/5/010
Date Finished: 3/6/10 (buttons added on 3/21/10)
Modifications: Omitted leaf motif on both mitts
Extras: Eight 1/4" size buttons from JoAnn's; La Petite #1191
See them on Ravelry!
After seeing Grace's Gretyl, I was dying to work with Malabrigo Lace doubled. Grace had raved to me about how nicely it knit up, and boy she was right! I loved every second knitting these mitts and barely set them down. The lace doubled is a great substitute for fingering weight yarn and worked perfectly for these delicate mitts.

For the most part, I knit the pattern as written. After I finished my first mitt though I decided I actually preferred how it looked without the lace leaf motif on the back of the hand. I ripped back and re-knit it plain. Although the original design is pretty, I think my bright yarn is well suited to the simpler look.
These mitts would especially make great gifts. They knit up very quickly and the lace cuff really gives them that "wow" factor. They're actually a bit fancy for my taste, but when I do wear them it will be fun to know I have a pretty lace cuff hidden in my coat sleeve!