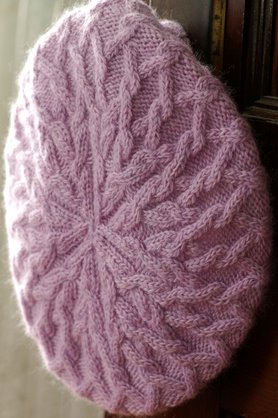 Pictures of Jojo modeling this hat can be found here.
Project Specs
Pattern: Gretel designed by Ysolda Teague
Pattern Source: Ysolda's Ravelry Store
Yarn: Malabrigo Lace (held double) in Orchid, 31g (292 yards)
Needles: KnitPicks Nickle Plated Options circulars size US3 and US5
Cast On: 6:45 PM 2/16/2010
Finished: 10:01 AM 2/18/2010
Finished Size: Child's Small (hopefully to fit a 3 year old's head), 8" in diameter
Modifications: Knit at a smaller gauge with about light fingering weight yarn and smaller needles to reduce size.
See it on Ravelry!
Whenever I send out a baby gift to parents who also have an older child, I like to include a little something for them as well. Serena's older sister Jojo is 3 almost years old and I'm sure it has been a bit of a shock to the system welcoming a new little one into the house that she used to rule alone. With all the baby gifts that I'm they'll be receiving, I didn't want her to feel left out so I've been knitting up a few little gifts that she can play with and wear.

Although Jojo isn't exactly a kid who loves to wear hats, I couldn't resist the image of her in a slouchy little beret. After searching through a variety of child's sized berets, nothing jumped out as me as much as the classic, but adult sized, Gretel. I attempted to create a child's size hat just by changing the gauge and knitting the pattern as written. I went down to size US3 needles for the ribbing and US5 needles for the body of the hat. I also substituted the worsted yarn to a light fingering weight by holding Malabrigo Lace double. I think it worked out perfectly and should comfortably fit a 19 or 20 inch head. Hopefully she'll be more willing to wear this hat than the baby sized Shedir that I made her a while back. I think the longest that hat had stayed on her head was about 0.5 seconds before being pulled off and flung across the room.

I love how soft this hat turned out and I think Jojo will really like it too. She really likes cuddling up with the Duck Soup I made her last year which was made out of Worsted, so I know that she appreciates the softness of Malabrigo yarns. This was my first time trying to knit with Lace held double and I really like the result! I used my new set of Knit Picks Options interchangeable needles with the nickel plated tips for the first time to knit this project. The pointy tips on these needles are perfect for cabling and working at this small gauge. I think it would have been infinitely harder on blunter needles to cable with the Malabrigo Lace (especially when held double). The cords are also really flexible and the joins are smooth. I'm hoping this set will save me some money in the long run by cutting down my trips to the LYS to buy Addis.
I think I'll be sending out my package of gifts for the girls this weekend and can't wait to get pictures of both Jojo and Serena modeling their new knits!