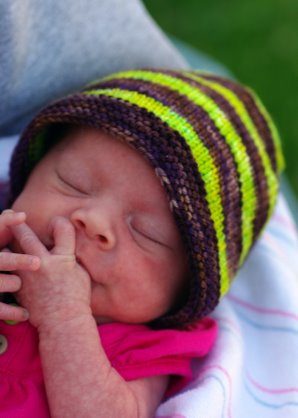 Project Specs
Pattern: Top Down Bonnet by Adrian Bizilia
Pattern Source: Available as a free Ravelry dowbload from Adrian's Shop
Yarn: White Oak Studio TV Yarn Fat Sock, two unnamed semi-solid colorways
Needles: US3
Finished Size: Newborn (14" headsize)
Date Started: 2/27/10
Date Finished: 2/27/10
See it on Ravelry!

Last month Jana from White Oak Studio offered to let me try out some of her beautiful handpainted yarns. She sent me two goregous colorways and I couldn't wait to squeeze in a project made from them before Malabrigo March. Since my new niece has arrived I've had baby knits on the mind, so it was kind of a no-brainer what to make!
I am so glad I chose to knit a baby item with this yarn. It is so soft and is perfect for covering sensitive baby skin. It's tightly plied Superwash wool, so it should be able to hold up to many washes and lots of wear and tear. I loved every second of knitting with it. It was silky and even squishy as I knit along. I'm excited to find a project for the rest of the yarn, though I think it will have to be something for myself next time!

Jana's yarn had a pleasant distinct smell (she washes all her yarns in Eucalan as a final step) and didn't bleed one bit during washing. I was impressed to find out she dyes one skein at a time and the whole process takes over three days to complete. I am so in awe of those with a knack for serious dying. It sounds like so much work! Though these skeins came to me unnamed, Jana's yarns are all named after movies and televisions shows from which they were inspired. Since I'm a huge TV junkie, I'm excited to find out what these are called!
For the pattern I turned to one I've knit before. I love this little bonnet pattern, and this time it went much faster than the first. The figure-8 cast on is so cool that I'm already wanting to find somewhere else to use it (since I'm not a sock knittter it really slims down the choices). This pattern is the perfect unisex baby pattern and could easily be knit up last minute in time for a baby shower.