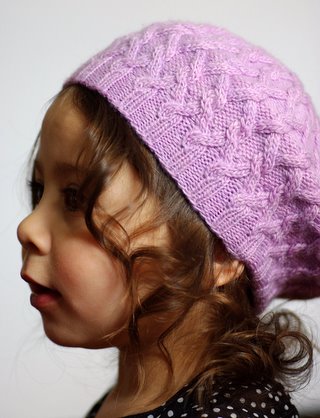 This has to be one of my favorite parts of knitting. Seeing your finished knit worn, loved, and even cuter than you imagined!

I knit this child's sized Gretel back in February for the 2010 Ravelympics. My niece Jojo had just welcomed her new baby sister into the family and I wanted to send along a present for her with my baby gift so she wouldn't feel left out. I was a little hesitant to knit her a hat; the last one I made her never stayed on her head for more than a second! However she recently saw Camdyn wearing her pink Dindy Beret and decided that hats were now OK in her book.

The Malabrigo Lace held double makes such a light weight fabric that it doesn't feel heavy on her little head at all, and the brim is super stretchy so this hat should grow with her for quite a long time to come. The color (Orchid) looks amazing on her and the style is just perfect! I wish I could pull off a beret half as well as she can. I'm really looking forward to knitting her some more things for her birthday at the end of this month.
By the way, can you believe that this is the same little girl who wore that first baby sized Kiddie Cadet years ago? She has grown up so much since then, and seeing these photos has made me realize just how long Alice and I have been blogging here.