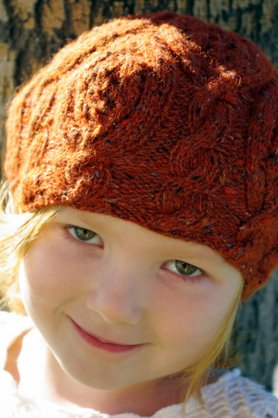 Project Specs
Pattern: Rose Red designed by Ysolda Teague
Pattern Source: Ysolda's Ravelry Shop
Yarn: Less than 1 skein Rowan Felted Tweed in Ginger
Needles: Clover DPNs size US 6
Date Started: 10/22/09
Date Finished: 10/24/09
Finished Size: Small, fit's Camdyn's 19.5" head
See it on Ravelry!
It feels so good to be back to blogging! Not only have I been away from the blog for most of the year, but I haven't been knitting either! Unfortunately other things took precedent, and after long days of sawing, painting, laying down flooring, and all sorts of household projects my hands just couldn't physically handle knitting. Luckily the pace has slowed down here and I've actually been able to sit and knit, as well as relax and pour over all the great new patterns that have come out during my absence.
Of course not knitting for almost a year has made me pretty rusty.

I decided to ease back into things with a project that would be quick to finish (even with my now slower knitting speed) as well as something I've had in my queue for a long time. There are so many great Rose Reds out there, but I was really drawn to the more rustic versions made from Rowan Felted Tweed. I love how this yarn knit up, and I don't think I could be any happier with the final product. The color and tweedy flecks give the hat a wonderful Fall feel and the ginger colorway is the perfect compliment to Camdyn's strawberry blonde hair.

Before starting I read that some knitters have had some quality issues with this yarn--breakage, knots, and vegetable matter. Thankfully my ball had none of these problems. I found the yarn easier to knit with than I expected and after a soak in wool wash it became quite soft. I wouldn't hesitate to use it again next time I'm in the mood for something tweedy!
The pattern flows along nicely and I enjoyed knitting it. I'm a big fan of the top down construction especially since you can see the flower grow from the center out.

The pattern contained both written line by line instructions and stitch counts, as well as a full chart, which I found very handy. I worked the small size as written with the recommended needles and even though my gauge was a little tight, I ended up with a hat that fits Camdyn pretty well! This pattern could be knit in a day if you needed to for a (really) last minute Christmas gift, or at a more leisurely pace it could be finished up over a weekend. Now that I'm back in the swing of things, I'm excited to get started on my holiday knitting.
I am also working on a pair of Robot Mittens ! I'm using Malabrigo (of course!) in Polar Morn, Tuareg, and Shocking pink. I've just finished my first mitten and I love knitting these little robots. It's going to be fun seeing other Robot Mittens popping up in other color schemes as other knitters start on Grace's pattern too. How exciting--hopefully there will be an army of Robots soon! Also, I know many of you share our love of cute knitted toys, so we wanted to tell you to check out Mochimochi Land's annual photo contest. There are lots of cute toy photos (including a photo of Grace's Pile-able Pups) in the running head over to Anna's blog to check it out and vote for your favorite when you get a chance!