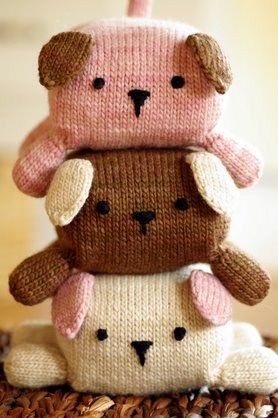 Project Specs
Pattern: Pile-able Pups designed by Anna Hrachovec
Pattern Source: Mochimochi Land Shop
Yarn: Malabrigo Merino Worsted 50g (105 yards) each Pale Khaki, Dark Earth, and Pink Frost, 24" scrap of Black for face
Needles: Clover DPNs size US 5
Date Started: 5/10/09
Date Finished: 5/17/09
Finished Size: Each dog is 5.5" long x 3.5" tall x 4" wide
See them on Ravelry!

I had the pleasure of test knitting Anna's newest pattern which was just released just yesterday. I think it turned out to be one of her cutest designs yet! The only other pattern of hers I had knit before was Butterfull, but her designs always seem to end up in my queue. Pile-able pups seem like they'd make a great gift for babies or toddlers since they're soft and squishy, just about the perfect size to grip and toss around, plus they're stackable!

The pieces of the pups are easy to knit but make sure you leave yourself time to complete all of the finishing work! Each pup is made up of 8 pieces, the body, two ears, four legs, and a tail so quite a bit of seaming is involved. Usually I'm not a big fan of seaming but I found it to be good practice on honing my finishing skills. I thought it was straight forward as to what should line up and where to place all of the limbs. When seaming the body, I found it easiest to leave a long tail after binding off the final flap, then using that tail to sew the short end of the body closed as well as one of the longer edges. You're left with one long edge open allowing you to embroider the face with ease before you stuff the body. This way you can make sure the ends are really fastened tightly which is something I'm always concerned about, especially if I'm making a toy for a toddler. I also found her seaming tutorial helpful and definitely worth reading especially if you're a beginner.

I made sure to stuff each of the pups really full (it definitely seems better to slightly over-stuff them) to make them super soft and squishy. They really don't have a problem stacking even if they're slightly rounded because the legs keep them sturdy. Yes, I used Malabrigo again but I just couldn't resist working with these colors! I made these with my niece Jojo in mind, wanting to get a head start on my Christmas knitting. Her new bedroom is painted in shades of pink, green, and white so I thought these little guys would go well in there (not that a 2 year old cares about that sort of stuff).